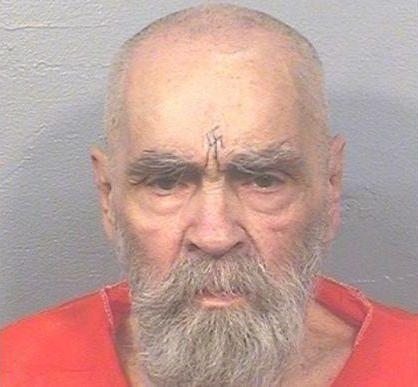 Charles Manson, a cult leader of Helter Skelter gang that is also known as Manson Family, died at the ripe age of 83 on Sunday, November 19. He spent over 40 years behind bars for orchestrating nine murders. Manson died of natural causes after being admitted to Bakersfield hospital in California earlier this month.
Manson made national headlines in the 60s and 70s after masterminding to kill nine people using his followers known as Manson Family.
Among the murder victims was a Hollywood actress and wife of film director Roman Polanski, Sharon Tate who was pregnant at the time of the killing. She was two weeks from giving birth and was spending time with her friends at home after dinner at her favorite restaurant. She and her four friends were murdered in brutal manners and Tate had 16 stabbed wounds in her body. The actress was remembered as a "gentle" person.
After getting mass media spotlight for the murder, most of the Manson Family was apprehended for murder trials. Manson was initially sentenced to death in December 1971 but after the death penalty was considered unconstitutional in 1972, his death penalty was revised to a life sentence.
Manson applied for parole 12 times and all his attempts were denied. After his last appeal in 2012, he gave up.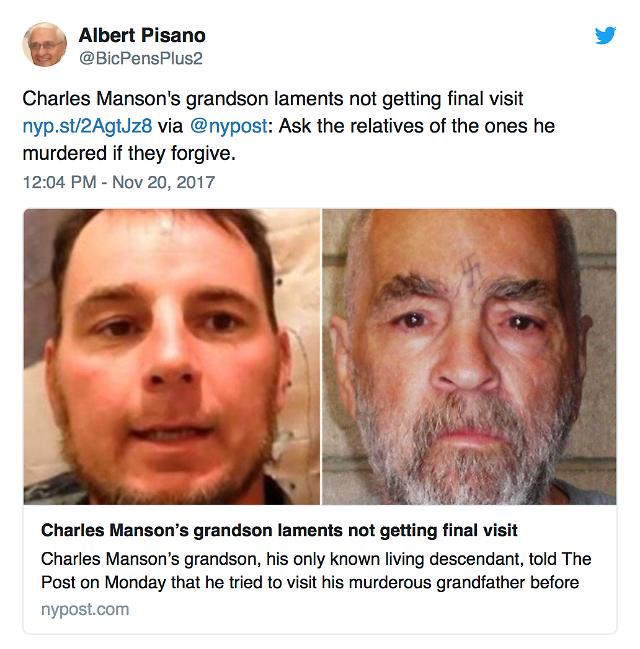 After Manson's death made media headlines, his 41-year-old grandson Jason Freeman spoke out. He told the New York Post, "It's a little rough for me right now. It is hard because I didn't get to see my grandfather before he passed, and that's something I've been working really hard at during this last year. Freeman is the son of Charles Manson Jr., only known biological son of the cult leader and his first wife, Rosalie Willis who cheated on him after his second imprisonment. Manson Jr. changed his name to Jay White to cut his tie with his father and start fresh. However, he killed himself in 1993 in Burlington, Colorado.
Freeman never got to meet Manson Jr. but received occasional letters or gifts from him. He believed that his father "stayed away from him, not wanting to tarnish his childhood in the same way his had been", according to CNN.
Relatives have 10 days to step forward and claim Charles Manson's body. If no one does, the state of California will take the responsibility of disposing of Manson's body.
Kwak, Min Jung = abiel@ajunews.com