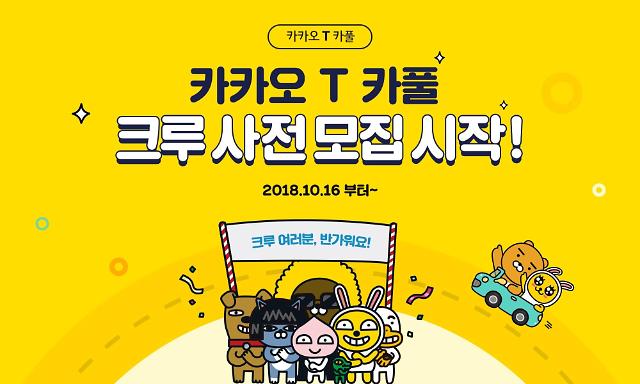 SEOUL -- Despite strong protests from South Korea's taxi industry, a carpool service pushed by South Korea's top message-app operator Kakao gained greater attention than anticipated from car owners who hope to join the service.
Tens of thousands of taxi drivers demonstrated in central Seoul on Thursday, two days after Kakao started recruiting drivers for its car-sharing service, insisting its service using a smart mobility app would ease the rush-hour lack of available taxis.
As of 4:00 p.m. (0700 GMT) on Friday, the app was downloaded more than 100,000 times on Google Play, a smartphone app store market, and more are in the queue to become Kakao carpool drivers.
Taxi drivers want the government to revise a law which stipulates that the owners of passenger cars can receive money when they provide rides for other people during commuting hours.
Kakao began its mobility service by launching Kakao T Taxi, a taxi hailing service, in 2015. The app is favored by consumers and taxi drivers because of its user-friendly interface and easy access.
According to a survey conducted by Kakao Mobility, taxi drivers earned 37.5 percent more, compared to their earnings before the taxi-hailing service was launched. But they now regard Kakao as their enemy trying to expand its clout into the transportation industry.
Taxi unions called for government intervention and support, saying tax drivers have endured low income, excessive work and poor working conditions for many years.