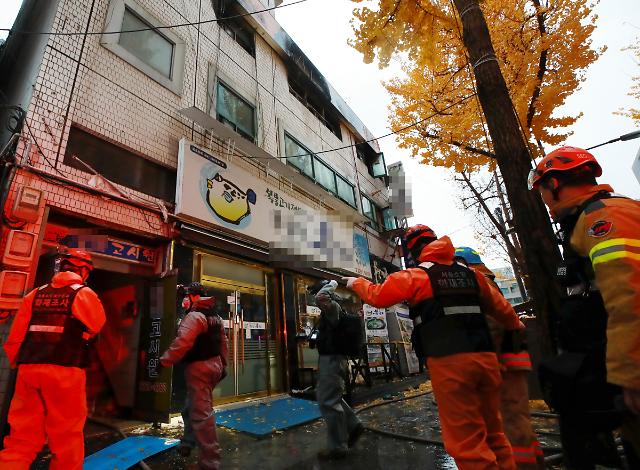 SEOUL -- Seven people were killed and 11 others were injured in a deadly fire that engulfed a cheap three-story urban accommodation facility housing day laborers in small rooms.
Firefighters said the fire broke out on the third floor of an old building called "Goshiwon" near Cheonggyecheon Stream, a stream which flows through the center of Seoul, at around 5 a.m. Friday. The blaze was put under control in two hours.
Goshiwon is comprised of many small rooms with customers sharing bathrooms and kitchens. It is favored by day laborers and low-income people as an average monthly staying fee stands at about 300,000 won ($266). Goshiwon is structurally vulnerable to fire mainly because the walls of its rooms are made of thin plywood.
The building gutted on Friday had a restaurant on the first floor. Some 50 people mostly in their 40s and 50s were inside when the fire broke out at the entrance of the third floor, blocking a fire exit route.
Although the building had a fire alarm, a fire exit and a descending lifeline system, it did not have a sprinkler system as it was built 31 years ago. "The victims were not able to use the descending lifelines properly," a firefighter told reporters.