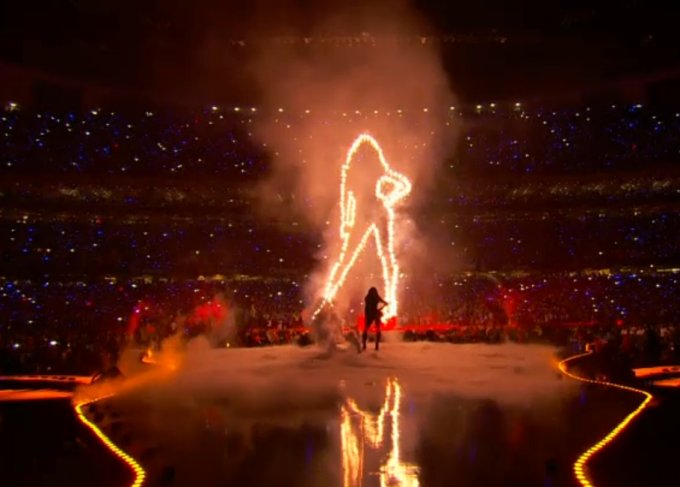 (Photo: Beyonce NFL Super Bowl halftime show)
Beyonce's halftime show wowed the crowd and proved to fans that she can sing live, 'not lip syncing' like some accused her to be at President Obama's inaugration.
Her performance began with her solo silhouette light show to grab crowds' attention and soon joined by her back-up dancers for power dancing.
Beyonce then shook her booty along with "Crazy in Love" and showed off her million-dollar curves.
Her fans were amazed with Beyonce's ability to keep up singing-live along with her power choreography that went on for 13-long-minutes.
The crowd went wild when the Destiny's Child members—Kelly Rowland and Michelle Williams—popped up from bottom of the stage and performed together. The Destiny's Child showed the perfect harmony and lived up to their old fame.
@NFL Super Bowl, Destiny's Child performing together
The DC performed beginning part of 'Single Ladies' together then Beyonce wrapped up the song alone.
Beyonce then finished off the show singing 'Halo' while the excited crowds stretching their arms toward her.
Coincidently after her performance, the Superdome had a power outage and anxious fans blamed Beyonce for it. Many tweeted "Beyonce used up all the electricity!" during the dark 30 minutes.