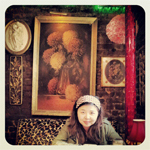 Eat, Play, Love with brown rice
By Gia Shim
Life stylist=
My blog will be about how I eat, play and love in my new home town.
I am an immigrant from Korea, have been living here over 10 years now.
I have spent most of my 20s and my 30s in US purpose of studying and working,
more importantly eating, playing and always loving.
I enjoy cooking, develop new recipe.
When I first came to America, I did not know how to cook rice using rice cooker.
I have developed many recipes that are similar to authentic Korean food using local ingredients.
I play with my borybob, direct translate of "brown rice."
We found them on the corner of Webster and 10th street in Oakland chinatown.
We found them shaking inside of small card board box.
I love. I love my partner Andrew who enjoys good music, good food, good laugh.
Eat,
Play,
Love.
Top three values in my life, and i'd love to share how i do it thru this blog.
Andrew and I go to farmer's market every Saturday.
We find tulips and other flowers from this farmers market.
6 bunch for $20.
Today, my suveniors were 50% off raddish bunches.
I am going to make kimchi with this.
Traditional kimchi is much more spicy, fishy compare to this raddish kimchi.
It'll be more pickle combine kimchi kind.
ingredients: Few bunches of raddish, fish sauce, salt, pepper flakes, apple or pear, onion.
1. Wash the raddish and leave it on the rack to dry them out
2. Grind onion, apple. Put them on the side.
3. Boil a pot of water and put onion, enchobies to get consome.
4. Let the consome get cold.
5. Put all of pepper flake, ground onion, apple, salt
6.Put all the raddish in the water.
7. Seal the top of the bottle.
8. Leave them in room temparature and let it sit there of one or two days.
9. Put it in regregirator after two days.
You can eat it as salad, eat them with anything!
I tried it with my bibimkuksoo- which is new recipe i am working one.