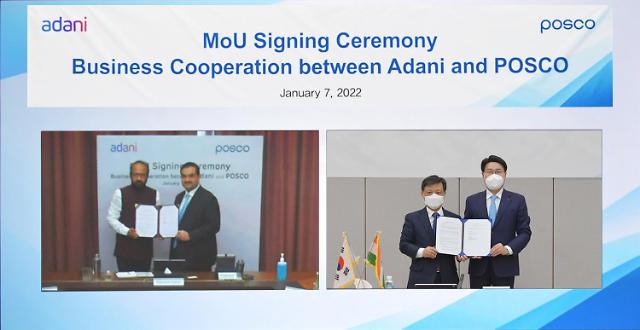 SEOUL -- In cooperation with India's leading energy and logistics conglomerate, Adani, POSCO will push for the construction of a new steel mill in the world's second-most populous
country
where resistance from local communities prompted the South Korean group to scrap an earlier steel plant project
POSCO said it signed a memorandum of understanding online with Adani Group to launch a joint project for the construction of an eco-friendly integrated steel plant. The suggested site is Mundra in the Gujarat state on the western coast of India.
The two companies would discover various business opportunities in the fields of renewable energy, hydrogen, logistics and chemistry to respond to carbon reduction policies. Adani Group chairman Gautam Shantilal Adani said the partnership would play a major role in strengthening its position in future eco-friendly businesses.
"If POSCO's steel technology and Adani Group's energy and infrastructure expertise are combined with this business agreement, various synergies will be exerted in future eco-friendly businesses," POSCO Chairman Choi Jeong-woo said in a statement on January 13. The steel group said that the partnership would further solidify its position in India's high-quality steel market.
POSCO, which runs a plant in the Indian state of Maharashtra, has scrapped a $12-billion steel plant project in the Jagatsinghpur district of Odisha due to resistance from local communities.
As part of efforts to decarbonize and reach net-zero carbon emissions by 2050, POSCO aims to put an eco-friendly steel production system using hydrogen as a reducing agent into actual operation in 2027. Normally, furnaces use coal as a reducing agent to separate oxygen from iron ore. POSCO nurtures green hydrogen as one of its new growth engines. The steel group is involved in a state-sponsored demonstration project to capture carbon dioxide from high-temperature emissions in steel manufacturing.