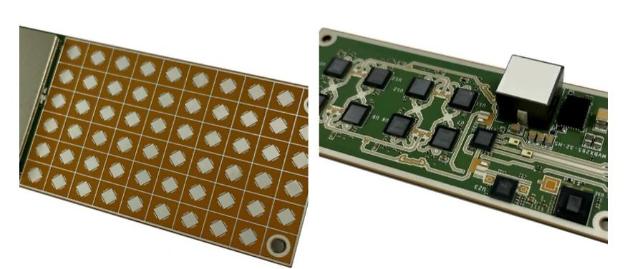 [Courtesy of Doosan Corporation]
SEOUL -- Doosan Corporation, the corporate holding company of South Korea's Doosan Group has produced 5G antenna modules, using technology from Movandi, an American wireless system company tackling the technical challenges of 5G millimeter-wave networks. Starting with the production of antenna modules, the company aims to get deep into 5G-related businesses.
The first batch of 5G antenna modules produced by Doosan Corporation has been shipped to Fiber Radio Technologies, a domestic wireless repeater maker. The integrated solution module that applied Movandi's beamforming antenna technology is a key component of 5G wireless repeaters. Beam-forming focuses power to desired users to form beams, expand coverage and increase speed in the 28GHz band.
Radio frequencies in the electromagnetic spectrum from 30 to 300 gigahertz (GHz) are called millimeter waves (mmWave). Certain frequency ranges near the bottom of the band are being used in the new generation of mobile phone networks. 26 GHz and 28 GHz have emerged as two of the most important bands in the 5G offerings.
South Korea is close to commercializing services based on 28GHz-based 5G networks that will make data transmission speed faster especially in areas where traffic is concentrated. Doosan Corporation said its 5G antenna module can respond to 28GHz frequency bands of all domestic mobile carriers and can also be applied to overseas telecommunication markets.
"As data traffic increases worldwide, needs for 5G communication are growing and related markets are growing rapidly." "In particular, 5G communication infrastructure is actively being built overseas, so expectations are high for this project," Doosan's electro-materials BG head Yoo Seung-woo said in a statement on March 3.
Doosan Corporation has secured exclusive rights from Movandi to manufacture and sell 5G antenna modules. A 5G antenna module line was set up in the southwestern city of Iksan. Doosan and Movandi are developing 26GHz and 39GHz antenna modules targeting overseas markets such as China, Europe, and the United States. Doosan's business area will be expanded to IoT terminals and wireless network radio modules based on mmWave.