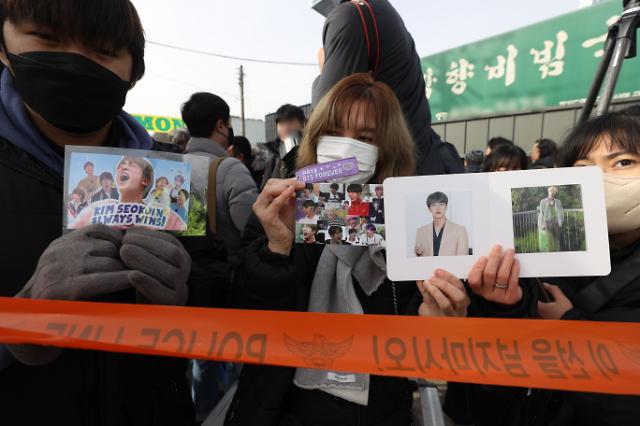 SEOUL -- While some dozens of fans waited outside a frontline army boot camp battling against the snow and gusts of wind, a black van carrying Jin, the eldest member of K-pop superstar BTS, silently drove past the gate without coming to a halt. Some fans expressed disappointment as they expected the 29-year-old artist to lower his tinted window to wave and say farewell before he started his mandatory military service.

Before his enlistment, Jin had requested fans not to come to the boot camp to say farewell. It was because of a K-pop fan tradition event for sending off their artists to their mandatory military service. Normally, hundreds of fans would gather at the gate of an army boot camp to shake hands and take selfies.

On November 24, the artist encouraged fans to not come over to the boot camp through an online fan community message, 27 days after a deadly stampede that took the lives of 159 people in Itaewon, a party district near central Seoul, during a Halloween street festival on October 29. Despite Jin's sincere requests, there were some 10 fans who stood alongside dozens of reporters with cameras and mics. With their nose red in the sub-zero temperature, they wiped tears from their eyes as they watched Jin's black van glide into the boot camp gates.

Jin will receive five weeks of training for his service at the infantry division known for tough training and freezing weather in winter. The boot camp is located in Yeoncheon some 59.5 kilometers (37 miles) north of Seoul. After completing his basic training, Jin will receive his military occupational specialty before being assigned to his unit.

The singer shocked global fans with a sudden decision to fulfill the mandatory military service, ending a wave of social discussions on whether BTS members should be exempted from military service. All able-bodied males who are 18 and older must serve their mandatory military service unless they have a valid reason for exemption. Jin had been allowed to postpone his enlistment until the age of 30, which is the end of 2022.

During his 18-month service, Jin will be allowed to participate in limited group activities with other BTS members such as concerts outside barracks if top commanders make an exceptional judgment that their reunion will promote national interest. Starting with Jin, all BTS members will fulfill their service in South Korea which is still technically at war with North Korea.

Evading military service can significantly damage a male artist's reputation. Steve Yoo, a Korean-born American singer, had gained popularity for his outstanding dancing style and sporty image until he acquired U.S. citizenship in 2002. He has been banned from entering South Korea for widespread criticism that he changed nationality to dodge military conscription.

© Aju Business Daily & www.ajunews.com Copyright: All materials on this site may not be reproduced, distributed, transmitted, displayed, published or broadcast without the authorization from the Aju News Corporation.