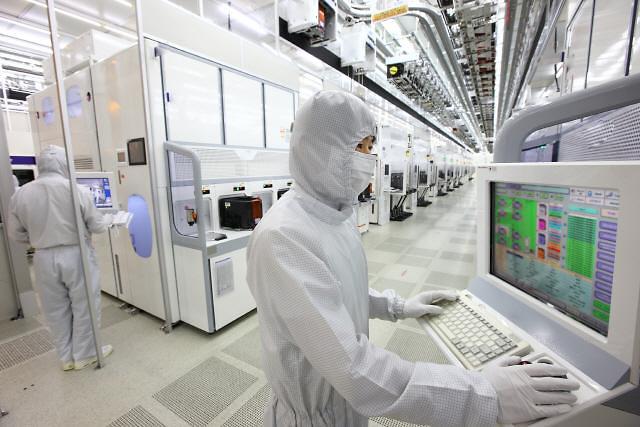 SEOUL -- Falling exports of semiconductors are likely to lower the country's economic growth to as low as 1 percent this year, according to a report released on January 25 by the Korea Chamber of Commerce and Industry (KCCI).

The report predicted that if semiconductor exports decline 10 percent, the economic growth rate will drop by 0.64 percentage point. It also said that the growth rate will decrease further by 1.27 percentage points if semiconductor exports fall 20 percent.

The KCCI report implied that the economy could grow at the rate of between 1 percent and 1.5 percent in 2023 due to the slumping semiconductor industry, lower than the 1.7 percent growth projection by the Bank of Korea (BOK).

The domestic semiconductor industry, which began to suffer from doldrums in the third quarter of last year, is expected to remain weak this year due to declining global demand amid an economic downturn.

The Korea Institute for Industrial Economics and Trade (KIET) forecast that overseas shipments of semiconductors will plunge 9.9 percent in 2023 from a year before. It also said that the declining rate will be far steeper at 16.8 percent in the first half of the year, while it is expected to record a 2.2 percent fall in the latter half.

KCCI researcher Kim Cheon-gu said that the semiconductor industry had contributed to increasing the country's growth rate by 0.6 percentage point between 2010 and 2022. During the 13-year period, the economy had grown at an average annual rate of 3 percent.

Kim, however, warned that the chip-making sector will serve as a negative factor dragging down the economic growth rate this year. He pointed out that semiconductor exports tumbled more than 40 percent between 2008 and 2011 following the 2008 global financial crisis.

According to official statistics, South Korea's exports were estimated at $683.9 billion last year. Semiconductor exports stood at $129.2 billion, accounting for 18.9 percent of the total exports. The proportion was up from 10.9 percent from 2010.

The data showed that Korea has now become highly dependent on the semiconductor industry for economic growth. In other words, falling global demand for semiconductors, particularly memory chips, will sap Korea's growth to a great extent.

Industry sources said that chip inventory has recently increased due to decreasing demand for PCs, smartphones, consumer IT devices, and computer servers of corporations. The situation is getting worse as the U.S. is trying hard to create its own supply chains to check the rise of China in the escalating superpower rivalry.



© Aju Business Daily & www.ajunews.com Copyright: All materials on this site may not be reproduced, distributed, transmitted, displayed, published or broadcast without the authorization from the Aju News Corporation.