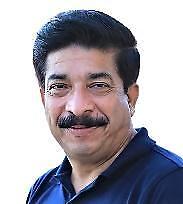 [This article was contributed by Dr. Imran Khalid, a freelance writer based in Karachi, Pakistan. He was qualified as a physician from Dow Medical University in Karachi in 1991, and has a master's degree in international relations from Karachi University.]
KARACHI -- To the utter dismay of the White House, though for entirely different reasons, President Xi Jinping's visit to Moscow has attracted more global attention than US President Joe Biden's glamorous "anniversary surprise" visit to Kyiv in the last week of February.
The hysteric tone of the Western media, which is trying to project this visit as some sort of discrete attempt to strengthen Putin's position in the Ukraine conflict, is not an unexpected trend given the fact that the US and its allies have been desperately trying to implicate Beijing in the Ukraine imbroglio.
Beijing's successful mediation between Iran and Saudi Arabia has pushed Washington on the back foot and there is a clear panic that Beijing is also seriously working to find a negotiated peace between Ukraine and Russia – a prospect that will seriously dent the American influence as a self-assumed guarantor of global peace and stability. The Iran-Saudi deal has enhanced the credibility of China as a sincere peace-loving country with a foreign policy that revolves around dialogue and reconciliation as the main tools.
There is a visible attempt by the US to paint President Xi's visit in a different vein. The American camp fears that Beijing can effectively use its diplomatic clout to bring Ukraine and Russia together on the negating table. Last one month's events have shown that China is sincerely working to find a negotiated solution to the Ukraine conflict that has dragged the whole world into a quagmire of unprecedented food insecurity, energy crisis, and skyrocketing inflation. On February 24, the first anniversary of the Russia-Ukraine conflict, China issued a position paper titled "China's Position on the Political Settlement of the Ukraine Crisis," systematically elaborating on China's stance in 12 points. This is perhaps the first such serious and comprehensive blueprint forwarded by any country to resolve this bloody conflict which is expected to become more dreadful in the coming days. President Xi Jinping has been advocating a peaceful and rationale deal since the outbreak of the Ukraine crisis.
China's position on the Ukrainian issue is one of "active neutrality," which reflects the demands of both Russia and Ukraine and addresses broader international issues such as nuclear war, food security, and global strategic stability. It is a highly condensed and specific document that fully recognizes the complexity and difficulty of the issue, and shows China's responsible attitude of not standing idly by, not fueling the fire, and opposing taking advantage of the situation. This is Xi's 40th face-to-face meeting with Vladimir Putin, whom he declares as his best friend, which is expected to strengthen strategic mutual trust and promote mutually beneficial cooperation between China and Russia and bring a sense of stability to the global power structure.
The close personal friendship and frequent interactions between them have been subjected to close monitoring by the Western capitals, who suspect that Xi is using backdoor diplomacy to find a breakthrough in the Ukraine conflict. Qin Gang's recent phone conversation with his Ukrainian counterpart Dmytro Kuleba, during which he emphasized the need for peace talks, is being projected as China's attempt to establish a communication channel between Kyiv and Moscow.
What Westerners are unable to see is the solid core of trust that has evolved between China and Russia in the last two decades. Promoting multipolarity and democratization of international relations are the two fundamental elements that create strong bonding between the two countries. Washington's unabated thrust to keep dividing the globe into blocs has provided ample opportunity for China and Russia to further deepen their cooperation and generate momentum against the divisiveness of the US-led group.
The robust complemental nature of the economic fabrics of both countries presents enormous potential for synergistic collaboration in a broad range of domains, including food, energy, and technology, etc. Strategic cooperation between China and Russia is expanding, serving as a novel form of major-country relations – an atypical trend envisioned by Xi Jinping to counter the US-sponsored divisiveness of the global political spectrum. Ironically, the US and the West are questioning and attacking China for its growing closeness with Russia on the one hand, while at the same time, they are expecting China to use its closeness to influence Moscow to ease its stance on the Ukraine crisis.
This is paradoxical. President Xi has been advocating a peaceful and rationale deal since the outbreak of the Ukraine crisis. XI insists that a long-term war of attrition is not a sustainable solution for anyone. China's persistent endeavors to ameliorate the Ukraine crisis in its own unique way have engendered the expectation that it can play a positive role. Given its capacity to serve as an intermediary between Russia and Ukraine, China is among the select-few influential players with the ability to construct a channel of communication. This is particularly valuable as both sides in the dispute are currently mired in a stalemate.
The vibes emanating from the Xi-Putin meeting in Moscow reflect that peace and rationality have started building up momentum. The majority of countries endorse the idea of reducing tensions, promoting peace talks, and avoiding actions that escalate conflicts. Looking back at history, it becomes clear that dialogue and negotiation are necessary for resolving disputes. President Xi Jinping has again reiterated the importance of a political resolution to resolve the Ukraine conflict. There is every reason to believe that China will continue to play a constructive role in promoting the political settlement of the Ukraine issue.
Positive thing is that, during his meeting with President Xi, Putin has given his consent to engage in peace talks with Ukraine. Yes, it may take some time. Though moving towards the negotiating table at this time will be very "awkward and uncomfortable" for Volodymyr Zelensky, who until now has been rejecting any possibility of communication with Moscow unless the Russian forces move back to pre-2014 status. At the same time, there will be immense pressure from Washington and Western capitals on him to stay away from the China-brokered peace initiative. However, just like the Iran-Saudi deal, Beijing is expected to give yet another big surprise in the coming days.