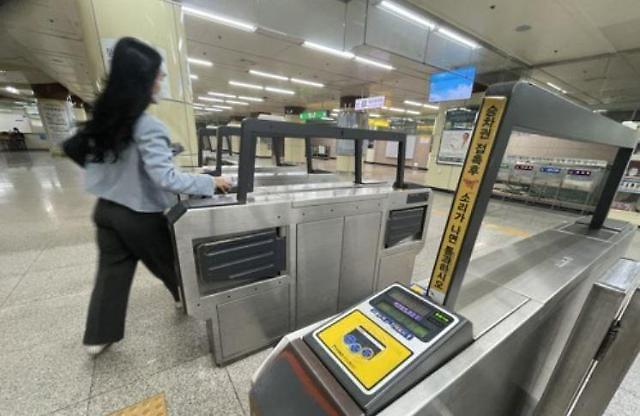 SEOUL -- Starting in July, Seoulites will be allowed to tag out and reboard subway trains within 10 minutes without paying an extra fare. Currently, passengers must pay for a new trip if they have to move through a toll gate to get to the other side of the platform or go to a toilet. These situations occur occasionally, especially when a person forgets to get off his or her destination station.

According to Seoul, there were many complaints regarding the need to pay the basic fare again when reboarding the train. Among 313 stations in the capital city's nine subway lines, 256 stations had bathrooms outside of their toll gates. The annual amount of additional fees paid by reboarding passengers was about 18 billion won ($13 million). About 15 million people went out of the toll gate and reboarded within 10 minutes in Seoul and its surrounding cities.

Seoul said in a statement that people would be allowed to tag out and reboard trains within 10 minutes starting on July 1. The new system would be demonstrated at all stations on line number 2, 5, 8, and 9, and selected stations on five other lines. After a test run for about a year, the city will discuss with related organizations to expand the new system to other stations.

"Allowing passengers to reboard within 10 minutes is a creative policy that sorts out the inconvenience experienced by more than 10 million annually." Seoul City's transportation office bureau head Yoon Jong-jang said in a statement on June 29.

Most passengers in Seoul take subway trains using T-Money Card, a transportation card that is used like a debit card or pre-paid card. T-Money Card holders aged 19 and older pay 1,250 won ($0.95) for basic fare when traveling a distance of under 10 kilometers (6.2 miles). An extra fee of 100 won is charged for every 5 km in travel distance between 10 and 50 km, and an additional 100 won for every 8 km beyond 50 km.

© Aju Business Daily & www.ajunews.com Copyright: All materials on this site may not be reproduced, distributed, transmitted, displayed, published or broadcast without the authorization from the Aju News Corporation.