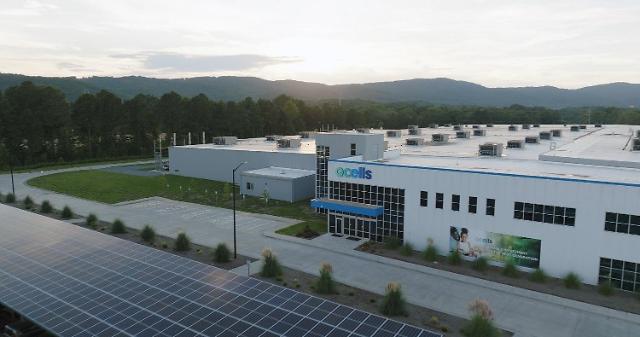 SEOUL -- Hanwha Q Cells, the solar cell-making wing of South Korea's Hanwha Group, has topped the residential and commercial solar module markets in the United States in the first half of 2023. The South Korean company, which is operating a solar module factory in Georgia, will invest more than 3 trillion won ($2.3 billion) to expand its production facility in the U.S. to overcome the Inflation Reduction Act.

Under the Inflation Reduction Act (IRA), companies that build solar manufacturing facilities in the U.S. can receive tax benefits and other government support. The U.S. has injected about $430 billion in a bid to expand renewable energy infrastructure. According to data cited by Hanwha Q Cells, the size of the US residential solar module market increased by about 30 percent in the first quarter of 2023 compared to a year ago. The size of the country's commercial module market also increased by about 10 percent year-on-year.

Data released by global energy market research firm Wood Mackenzie showed that Hanwha Q Cells ranked first in the U.S. residential solar module market in 1Q 2023 with 35 percent and in the commercial module market with 25.3 percent. The South Korean solar module maker has topped the residential market for 19 consecutive quarters in the residential market and 14 consecutive quarters in the commercial market.

"As the global trade environment and major countries' energy policies are changing into low-carbon energy, demands for renewable energy are also growing rapidly," Hanwha Q Cells CEO Lee Koo-yung said in a statement on July 3. The company said more than 3 trillion won would be invested to establish a solar value chain complex in Georgia by 2024.

In May 2023, the South Korean solar cell maker showcased vertical solar modules for transparent soundproof walls. Vertical solar panels can be used in a wide range of applications as they take up less space than conventional solar panels. The company partnered with Korea East-West Power (EWP), a public power generation company, in September 2022 to develop and commercialize vertical solar modules.

© Aju Business Daily & www.ajunews.com Copyright: All materials on this site may not be reproduced, distributed, transmitted, displayed, published or broadcast without the authorization from the Aju News Corporation.