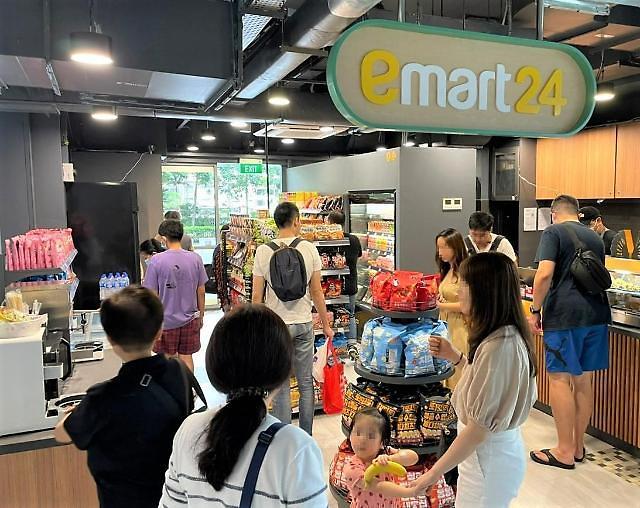 SEOUL -- The convenience store chain of South Korea's retail giant Shinsegae has opened its third store in Singapore less than seven months after the launch of its first store in December 2022. Visitors can enjoy various types of South Korean snacks including instant noodles known as Ramyeon and Tteokbokki, a menu of finger-sized rice cakes simmered in fiery-red spicy chili sauce. The store also has a dining spot where consumers can eat meal kits.

Emart24 said in a statement on July 5 that the third store located in a shopping area near Queenstown Station in Singapore has 60 percent of South Korean food items. The store also sells Gimbap, a Korean dish of rice and other ingredients such as vegetables and meat wrapped in sheets of laver, and Dakgangjeong, fried chicken with a sweet and sour taste. Consumers can drink Sikhye, a traditional Korean beverage made of rice and malt.

Emart24 aims to build 300 stores in the island country by 2028. The company's global business team head Choi Won-young said the convenience store operator will expand its business scope into other countries. Emart24 is currently running 38 stores in Malaysia.

Other South Korean convenience store operators are also trying to expand their markets into different Asian regions. BGF Retail, the operator of South Korea's major convenience store franchise CU, was operating 300 stores in Mongolia and 130 stores in Malaysia as of March 2023. The Mongolian store in Ulaanbaatar sells South Korean-style fried menus and Tteokbokki.

In a survey of about 80,000 Japanese, conducted by the Korea Tourism Organization (KTO) in 2015, Tteokbokki was picked as Japanese' 10th favorite Korean food. Ramyeon, which appeared in many South Korean films such as the Oscar-winning film "Parasite," is also gaining popularity. In 2022, a total of some $765,430,000 worth of Ramyeon packs were exported, recording the largest amount ever. China was the largest importer with $188.9 million, followed by the United States ($76.1 million) and Japan ($60.6 million).

© Aju Business Daily & www.ajunews.com Copyright: All materials on this site may not be reproduced, distributed, transmitted, displayed, published or broadcast without the authorization from the Aju News Corporation.