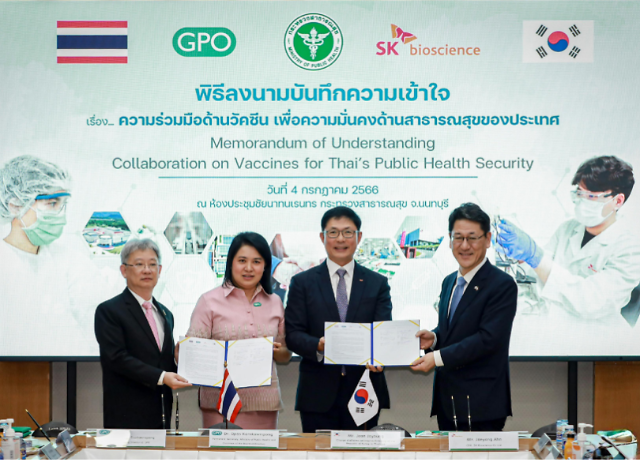 SEOUL -- SK bioscience, the developer of South Korea's first homemade COVID-19 vaccine, will transfer production technology for cell-based influenza vaccine to a state-run pharmaceutical firm in Thailand. After completing the transfer process, the Thai company aims to utilize SK biosciences technology called "SKYCellflu" for a national immunization project.

Cell-based flu vaccines, created using mammalian cells such as kidney cells from monkeys and dogs, are considered to be efficient as their production period is two to three months shorter than the conventional chicken egg-based method which takes about six months. Cell-based vaccines can be used to rapidly respond to unexpected pandemics.

SK bioscience has signed an agreement with Thailand's Government Pharmaceutical Organization (GPO) to transfer the SKYCellflu production technique. The South Korean vaccine developer will continue to provide the undiluted solution for the vaccine after the transfer technology. GPO aims to utilize SKYCellflu for vaccination projects in the Southeast Asian nation. In Thailand, all public hospitals are required to use at least 60 percent of GPO products.

"The convergence of SK bioscience's technology, GPO's manufacturing capability, and the administrative support from health authorities from both countries will form a powerful synergy, exemplifying a successful global partnership poised to effectively respond to the next pandemic," SK bioscience CEO Ahn Jae-yong said in a statement on July 5.

According to data cited by SK bioscience, the global influenza vaccine market is projected to reach $13.5 billion by 2029 from about $7.5 billion in 2022. In June 2023, the South Korean drugmaker partnered with the Doherty Institute, an Australian research institute specializing in infection and immunization to carry out research projects in influenza biology, vaccines, and antivirals.

© Aju Business Daily & www.ajunews.com Copyright: All materials on this site may not be reproduced, distributed, transmitted, displayed, published or broadcast without the authorization from the Aju News Corporation.