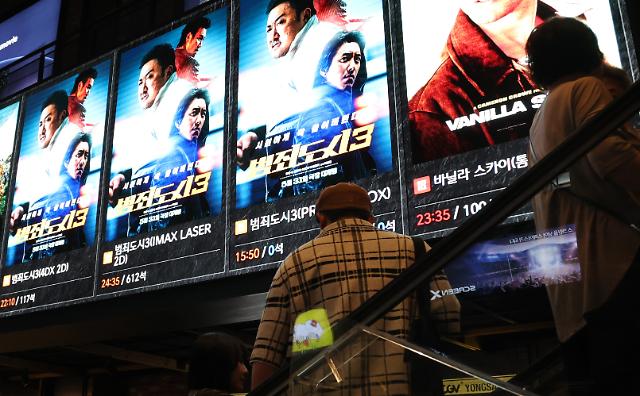 SEOUL -- Amid hype caused by South Korean action-comedy film "The Roundup: No Way Out," directed by Lee Sang-yong, fans of the film series are attracted to watch the original film and sequel via internet protocol television services.

The film series starring Ma Dong-seok, an action star known by the English name of Don Lee, captivated action film fans in 2017 with the original film "The Outlaws," depicting a team of detectives investigating organized crime cases in Seoul.

The sequel "The Roundup" was released in 2022 to attract more than 12.6 million viewers in South Korea with a population of about 5.2 million. Ma, a 52-year-old Korean-American actor, garnered extreme popularity through the series and became one of South Korea's favorite actors.

According to the Korean Film Council (KOFIC) on July 5, 10,299,690 moviegoers watched The Roundup: No Way Out as of July 4, 36 days after the third installment of the film series was released on May 31, 2023.

KOFIC also said that the sequel of the series was ranked sixth at the internet protocol television (IPTV) box office. The Roundup was watched some 49,000 times through paid IPTV video-on-demand platforms in June. The original film The Outlaws was ranked seventh and was played 27,000 times.

© Aju Business Daily & www.ajunews.com Copyright: All materials on this site may not be reproduced, distributed, transmitted, displayed, published or broadcast without the authorization from the Aju News Corporation.