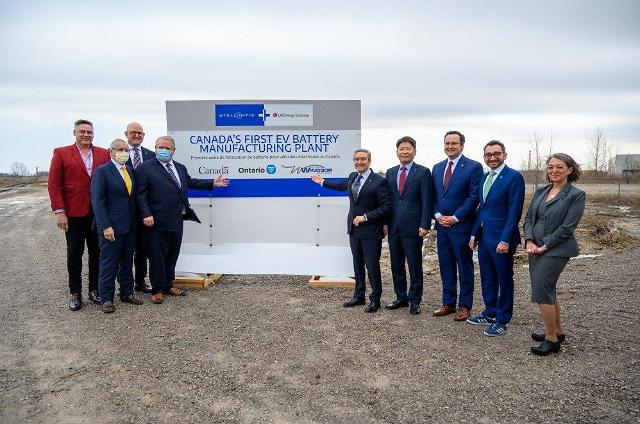 SEOUL -- A joint venture between South Korean battery maker LG Energy Solution and American carmaker Stellantis will resume the construction of a five-billion Canadian-dollar electric vehicle battery plant in Ontario, Canada after the companies reached a financial deal with the governments of Canada and Ontario.

LG Energy Solution (LGES) and Stellantis announced their joint Ontario battery plant investment in March 2022 but things changed when the United States passed the Inflation Reduction Act (IRA) which offers subsidies for clean energy technology including EV batteries developed or manufactured in Central or North America.

After the announcement of IRA, the two companies stopped the construction of the EV battery factory in May 2023 demanding that the Canadian government and Ontario Province provide financial incentives that match the subsidies provided through the U.S. IRA. Stellantis claimed that Canada and Ontario should keep their commitments with the original deal and contribute 500 million Canadian dollars each for the new plant.

LG ES and Stellantis said on June 5 that the Canadian government and the province of Ontario increased subsidies for the EV battery plant project. The joint battery factory will be constructed in 2024 to have an annual mass production capacity of more than 45-gigawatt hours. The plant would provide new jobs to some 2,500 people.

According to NextStar, LG ES and Stellantis' joint venture, the governments and companies signed an agreement that guarantees the stable future production of battery cells and modules in the Ontario region.

Canada's Deputy Prime Minister Chrystia Freeland and Minister of Innovation, Science and Industry Francois-Philippe Champagne also confirmed that an agreement has been reached between parties: "This agreement is good for workers and it is good for Canada. It will create and secure thousands of jobs — both in the auto sector and in related industries across Canada — and will further solidify Canada's place as a leader in the global electric vehicle supply chain."

© Aju Business Daily & www.ajunews.com Copyright: All materials on this site may not be reproduced, distributed, transmitted, displayed, published or broadcast without the authorization from the Aju News Corporation.