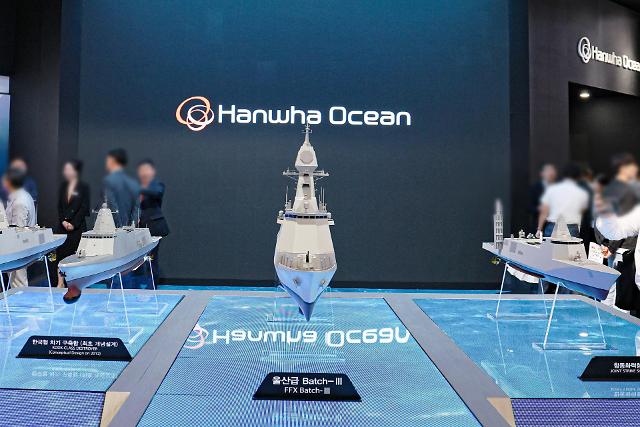 SEOUL -- Hanwha Ocean, a major shipbuilder in South Korea, is thinking over a large-scale investment to establish an indoor manufacturing plant that can build two naval vessels at the same time. Without being affected by hard weather conditions such as hurricanes or heavy rain, the facility can help the company complete the manufacturing process and deliver products within the scheduled delivery date.

The shipbuilder aims to use the new facility to build the fifth and sixth FFX Batch, a next-generation homemade frigate with enhanced aircraft detection capabilities. HD Hyundai Heavy Industries and Hanwha Ocean are currently competing to win a bid for the fifth and sixth ships of the 3600-ton class FFX Batch-III. South Korea's arms procurement agency will select the preferred bidder in July.

"We have not yet decided when to start the construction project for the facility," Hanwha Ocean's spokesperson Kim Sung-mi told Aju Korea Daily on July 6. Without disclosing details, the company said the indoor factory will be equipped with a lighting device to help workers build ships even at night. Two 300-ton-class cranes will be used to reduce the manufacturing period.

South Korea has strived to construct frigates with improved war capacities following the sinking of its Pohang-class corvette, Cheonan, in March 2010, near a front-line island in the Yellow Sea that killed 46 seamen. International experts concluded that Cheonan had been sunk by a North Korean torpedo.

HD Hyundai Heavy Industries launched a 3,600-ton frigate armed with a multifunction phased array radar capable of detecting and responding to targets in all directions in April 2023. It is equipped with a five-inch naval gun, tactical ship-to-ground guided missiles, and guided missiles against enemy ships.

© Aju Business Daily & www.ajunews.com Copyright: All materials on this site may not be reproduced, distributed, transmitted, displayed, published or broadcast without the authorization from the Aju News Corporation.