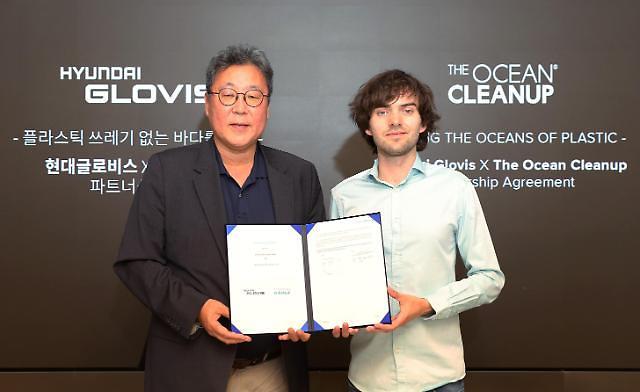 SEOUL -- Hyundai Glovis, the logistics wing of Hyundai auto group, partnered with The Ocean Cleanup, a Netherlands-based non-profit environmental engineering organization, to launch a project designed to collect marine waste-related data and collect waste plastics.

According to the United Nations, about 460 million tons of plastic products are produced annually and only about 10 percent is recycled. Many uncollected plastics end up in rivers and oceans where they threaten the lives of marine animals and plants. In the Pacific Ocean, there is a floating island of plastic waste called the Great Pacific Garbage Patch which is estimated to have a surface area of 1.6 million square kilometers, an area three times the size of France.

Hyundai Glovis said that the company signed an agreement with The Ocean Cleanup on July 5 to cooperate in reducing marine plastic waste. Hyundai Glovis will use cameras installed on cargo ships to collect and analyze data about the location and size of plastic wastes in the ocean and share information with The Ocean Cleanup.

The South Korean logistics company will also provide equipment including barge ships specially designed to collect marine waste for the Dutch environmental organization. Two waste-collecting boats will use a U-shaped collecting device to herd floating wastes. Also, Hyundai Glovis will offer various types of containers at the lowest prices for forwarding the collected waste to nearby base ports for recycling.

"We think that there is a great value in fulfilling the social responsibility as a company for the sustainable Earth environment," a Hyundai Glovis official said in a statement on July 6.

© Aju Business Daily & www.ajunews.com Copyright: All materials on this site may not be reproduced, distributed, transmitted, displayed, published or broadcast without the authorization from the Aju News Corporation.