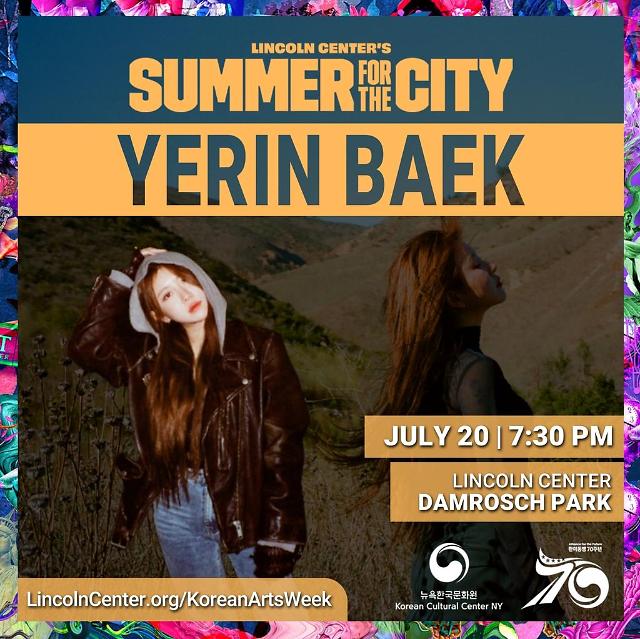 SEOUL -- Baek Ye-rin, a 26-year-old former member of JYP Entertainment's female duo 15&, will showcase her singing skills in various genres such as R&B and rock at a South Korean indie music festival set to be held in New York. The singer-songwriter will perform at the Lincoln Center, a performing arts center located in Manhattan.

Baek has captivated global fans through her unique voice tone. She received immense popularity for Square, a full English single song released in December 2019. The song included in an album titled "Every Letter I Sent You" topped real-time domestic song charts only three hours after its release. The artist has been also active as a member of "The Volunteers," an indie rock band that only sings songs in English.

The Korean Cultural Center New York (KCCNY), a state-run institute under South Korea's culture ministry, said Baek will showcase her talents on July 20. The cultural center said: "Offering a mix of soul to R&B, dream pop to grunge rock, Baek's music consistently defies expectations—she will enthrall you with her ethereal vocal stylings!"

At the two-day music event, scheduled to begin on July 19, Busan-based indie rock band Say Sue Me and Crying Nut, a South Korean punk rock band, will also interact with fans. KCCNY has hosted various types of music events including a K-pop festival in May 2023 where an American disc jockey curated songs by K-pop idols including boy band Stray Kids, NCT, and Seventeen. K-pop dance clubs from two universities in the Northeastern state also took part in the festival.

© Aju Business Daily & www.ajunews.com Copyright: All materials on this site may not be reproduced, distributed, transmitted, displayed, published or broadcast without the authorization from the Aju News Corporation.