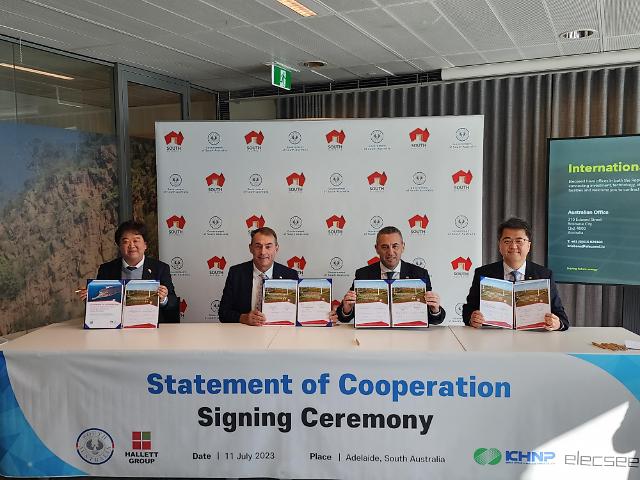 SEOUL -- Korea Hydro & Nuclear Power, the state operator of nuclear power plants, will join South Australia's state project to produce eco-friendly cement using green hydrogen. The South Korean company aims to secure a bridgehead for the green hydrogen business in Australia by participating in the project designed to reduce carbon emissions in the country's southern region.

Green hydrogen is a type of hydrogen fuel that does not use any fossil fuel during its manufacturing process. It uses electrolysis to split water and release only hydrogen and oxygen. Unlike regular cement which contains fossil fuels and waste materials, green cement is produced through hydrogen generated by solar power plants and water electrolysis facilities. The adoption of green cement can significantly reduce carbon emissions. The remaining hydrogen can be used at nearby hydrogen fueling stations.

Korea Hydro & Nuclear Power (KHNP) said in a statement that the company has agreed with the Government of South Australia to produce green hydrogen that would be used for green cement production. KHNP will also cooperate with Elecseed, an Australian renewable energy solutions provider involved in the green hydrogen project, and Hallett Group, a construction material supplier in South Australia. Hallet Group has earlier received about $13.1 million from the South Australian Government to carry out a green cement conversion project.

"We will gain a competitive edge in the green hydrogen business and secure production capacity to occupy the global market," KHNP's green business headquarters' head Jang Pil-ho said in a statement on July 11. According to data released by market research firm Grand View Research, the global green hydrogen market stood at $3.2 billion in 2021 and is expected to grow at an average annual growth rate of 39.5 percent from 2022 to 2030.

© Aju Business Daily & www.ajunews.com Copyright: All materials on this site may not be reproduced, distributed, transmitted, displayed, published or broadcast without the authorization from the Aju News Corporation.