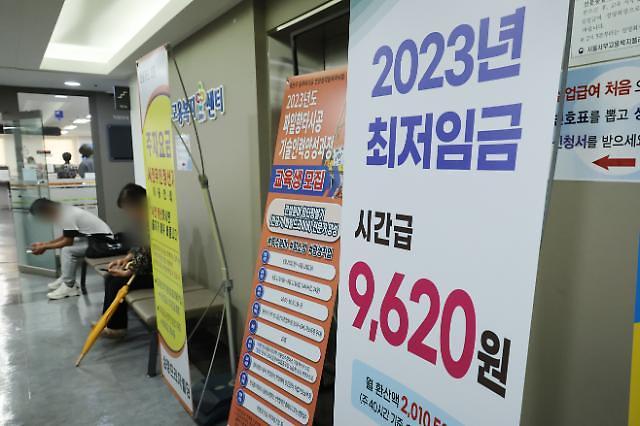 SEOUL -- South Korea's Minimum Wage Council consisting of government, labor, and management representatives will engage in a plenary meeting to reach an agreement on the minimum wage for 2024.

During the 12th plenary meeting on the 11th, labor and management presented the third and fourth revised proposals consecutively. The labor sector demanded 11,540 won ($9.05) through the third revised proposal, while the management sector demanded 9,720 won. Subsequently, they proposed 11,140 won and 9,740 won. The fourth revised proposal represents an increase of 15.8 percent and 1.2 percent respectively from this year's minimum wage of 9,620 won.

According to the labor ministry, the Minimum Wage Council will hold its 13th plenary meeting at a government complex located in the central city of Sejong on July 13. Labor and management sectors will continue their discussion as they were unable to set the minimum wage by the legal deadline, which was June 29.

In the past two years, the minimum wage has been determined based on a formula -- "Projected Economic Growth Rate + Projected Inflation Rate - Projected Increase in Employment Rate." This year's minimum wage (9,620 won) was calculated as "2.7 percent + 4.5 percent - 2.2 percent", resulting in a 5.0 percent increase. If the same formula is applied, next year's minimum wage would increase by 4.7 percent (1.6 percent + 3.5 percent - 0.4 percent), amounting to 10,720 won.

© Aju Business Daily & www.ajunews.com Copyright: All materials on this site may not be reproduced, distributed, transmitted, displayed, published or broadcast without the authorization from the Aju News Corporation.