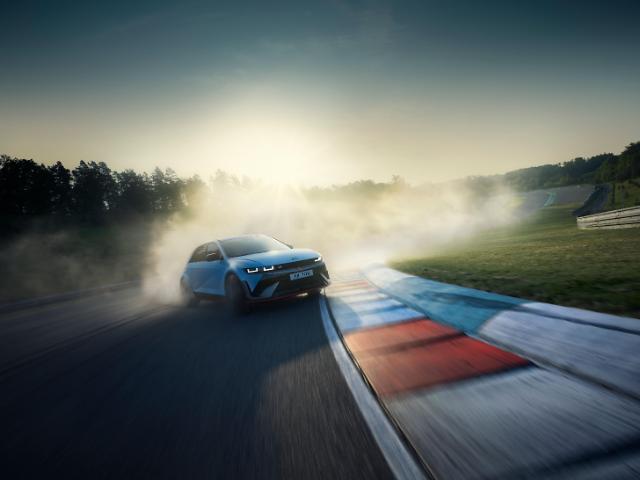 SEOUL -- Hyundai Motor has unveiled its very first high-performance electric vehicle model called "IONIQ 5 N," which is the beefed-up version of the IONIQ 5 released in 2021. The electric sport utility vehicle boasts a style of everyday sportscar while having the capability to race on professional motor tracks.

Hyundai's N brand was first launched in 2015 to benchmark other high-performance brands such as AMG of Mercedes Benz, M of BMW and RS of Audi. Currently, a total of five N models including IONIQ 5 N have been released. A total of 10 N Line models, which are vehicles with a slight touch of racing spirit, were also released.

Hyundai said in a statement that the new race-performance EV represents the carmaker's long-standing legacy of offering high-quality mobility alongside driver-focused N models. "Hyundai N spearheads the technological leadership of Hyundai Motor Company," Hyundai Motor Company CEO Chang Jae-hoon said, adding that IONIQ 5 N will be a game changer for high-performance EVs.

IONIQ 5 N with a dual-motor all-wheel-drive system offers superb handling and cornering abilities that can help drivers easily manage the weight balance and control of the vehicle when cornering. IONIQ 5 N also has a "drift mode" which drivers can use to maintain the drift angle by balancing multiple vehicle controls responding to real-time inputs. Drift is a cornering technique in which a driver deliberately puts rear wheels into a wheelspin state and loses grip. While the rear wheels have lesser grip, the car slides in and out of a corner as it smoothly drifts across a sand dune.

Other features of IONIQ 5 N include smart torque control, and a boost system called "N Grin Boost" that pushes the EV's electric motors to spin up to 21,000 rotations per minute providing 478 kilowatts and 650 horsepower. The battery has a thermal management system to resist performance degradation. The monster EV comes with specially tuned brakes that are constructed with new lightweight materials and optimized airflow for improved cooling efficiency.

© Aju Business Daily & www.ajunews.com Copyright: All materials on this site may not be reproduced, distributed, transmitted, displayed, published or broadcast without the authorization from the Aju News Corporation.