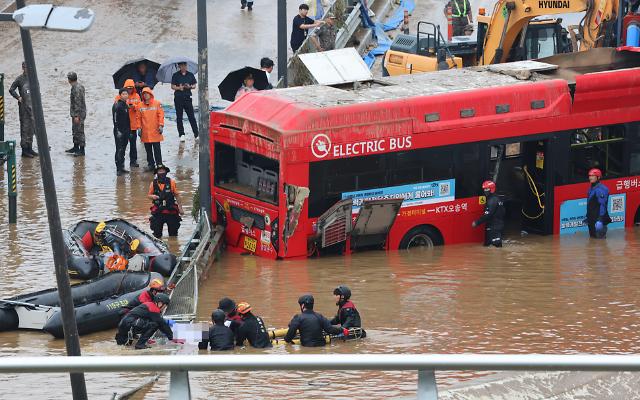 SEOUL -- A series of torrential rain took the lives of 43 people across South Korea where river banks have collapsed and landslides engulfed small villages due to heavy rain that soaked the country for more than one week, according to South Korea's main disaster control tower.

South Korea is normally soaked by dense rain clouds during "Jangma" (the rainy season in Korean) in July and August. According to data released by the Korea Meteorological Administration, the country saw an average annual rainfall of 1150.4 millimeters in 2022. The national weather forecasting service said some regions in the central and southern provinces saw about 200 percent more rain than average summers.

The Central Disaster and Safety Countermeasure Headquarters said that a total of 43 people lost their lives or went missing due to the rain between July 9 and 11:00 a.m. (0200 GMT) July 14. Some 7,900 people in across the country fled their homes to take shelter in safety areas such as local community centers and schools and 6,182 people were not able to return home.

The most recent damage by torrential rain took place in Osong, near the central city of Sejong, at about 8:40 a.m. on July 15. A riverbank collapsed and water rushed to flood a nearby underground tunnel and trap vehicles. Emergency workers are carrying out a search and rescue operation but the water in the tunnel has not been cleared yet. A total of seven bodies of victims were recovered.

According to the national weather service, more than 300 millimeters of rain will fall in the central Chungcheong Province on July 18.

© Aju Business Daily & www.ajunews.com Copyright: All materials on this site may not be reproduced, distributed, transmitted, displayed, published or broadcast without the authorization from the Aju News Corporation.