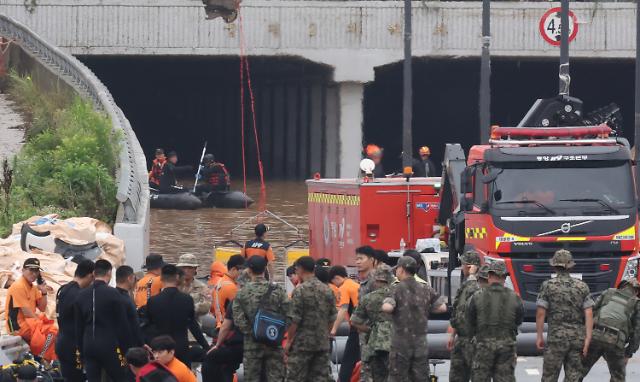 SEOUL -- A series of torrential rain that began its sweep across South Korea on July 9 has caused lethal disaster situations including collapsed river banks, landslides, and flooded underground tunnels, leaving 48 people dead or missing.

South Korea normally goes through the "Jangma" (the rainy season in Korean) season in July and August. Unlike previous summers which had rain clouds pass through the Korean Peninsula, dense rain clouds traveled very slowly through the central part of South Korea, in 2023 according to data released by the Korea Meteorological Administration. The state weather service predicts that South Korea would see more than twice the average rainfall in 2023 due to slowly moving dense rain clouds.

The Central Disaster and Safety Countermeasure Headquarters said during a briefing at 6:00 a.m. (2100 GMT) on July 17 that 48 people have lost their lives or gone missing since July 9. 10,570 people fled from their homes to safety and some 28,600 households received damages from the heavy rain. A total of 852 roads were closed to prevent safety accidents and railroads were temporarily shut down.

Amid a series of lethal accidents that took place during the last seven days, a flooding accident in Osong some 110 kilometers (68 miles) south of Seoul took the lives of at least 12 people. A river bank near an underground tunnel collapsed and flooded the tunnel with some 10 vehicles including a bus at about 8:40 a.m. on July 15. Rescue personnel are currently retrieving the bodies of victims as they pump water out from the flooded tunnel.

According to the state weather forecasting service, up to 40 millimeters per hour of rainfall will pour down across the central and southern parts of South Korea on July 17 and 18.

© Aju Business Daily & www.ajunews.com Copyright: All materials on this site may not be reproduced, distributed, transmitted, displayed, published or broadcast without the authorization from the Aju News Corporation.