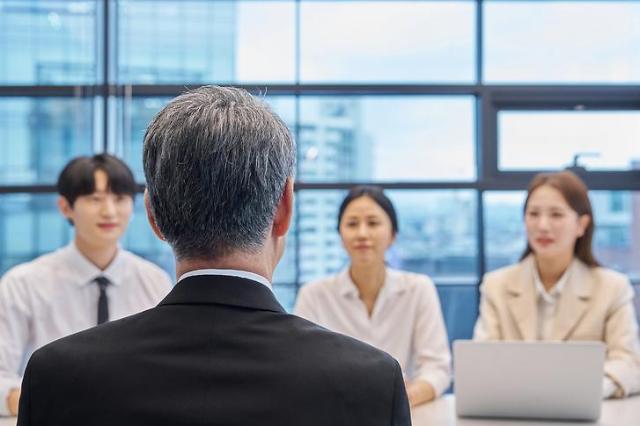 SEOUL -- Recent data released by South Korea's major business organization predicted that the average age of employees in the country would become 53.7 by 2050 due to population aging and a low fertility rate. According to the report, the average age of workers in the member countries of the Organization for Economic Cooperation and Development would be 43.8 in 2050.

South Korea is experiencing a significant aging phenomenon, with about 30 percent of its population expected to be aged 75 and older by 2073. The aging trend is being sped up by a record-low birth rate, which has declined to 0.81 babies per couple in the first quarter of 2023.

According to the report released by the Korea Chamber of Commerce and Industry (KCCI) on July 20, the average age of employees in South Korea would be about 46.8 in 2022. The business group forecasted that the average age would exceed 60 in the 2030s and reach 53.7 in 2050 based on the assumption that the current employment rate by gender and age would be maintained.

The KCCI added that the aging workforce could be accelerated due to the increasing number of working old people aged 50 and older and the decline in the birth rate. Statistics Korea's data showed that there were about 4,467,000 working people aged between 60 and 69 years old as of May 2023. Meanwhile, the number of working people in their 20s was 3,833,000. During the last five years, the number of people in their 60s increased by 1,772,000 to reach 5,709,000 due to the baby boomer generation entering the age group. In 2022, more than half of workers aged 50 and older were employed in the low-tech industry such as clothing and textiles.

The statistical information service said that the biggest reason for old people getting jobs is to earn money for regular expenses. About 72 percent of old people wished to continue working in May 2022. About 22 percent of old people thought their health condition was good enough to work, up 9.9 percent compared to 10 years ago.

© Aju Business Daily & www.ajunews.com Copyright: All materials on this site may not be reproduced, distributed, transmitted, displayed, published or broadcast without the authorization from the Aju News Corporation.