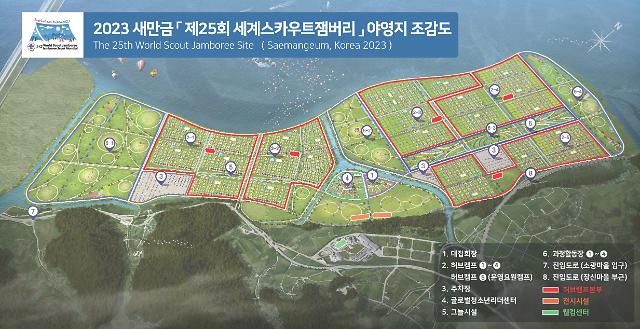 SEOUL -- About 36,000 teenagers from 158 countries will participate in a global Scouting event designed to link up young people from all around the world through various camping activities. The event held every four years will take place in Saemangeum, an industrial zone set up on reclaimed land near the southwestern port city of Gunsan.

Along with about 36,000 members aged between 14 and 18, 7,000 instructors and safety guards will take part in the event called the "World Scout Jamboree" for 13 days starting on August 1. Some 24,000 tents will be set up on 8.84 square kilometer-(884 hectare)-wide festival spot for the 108.2 billion won ($84.6 million) project.

South Korea is hosting the festival for the first time in 32 years since the 1911 Jamboree event in Goseong located along the southern coastline of the Korean peninsula. The Ministry of Gender Equality and Family has worked with the safety ministry and other government organization to establish safety infrastructure against various types of accidents.

"We are currently examining all the facilities for the 25th World Scout Jamboree," the gender equality ministry's Jamboree support bureau official Kim Geun-soo told Aju Korea Daily on July 25. Kim said teenagers will engage in different activities such as rope games and learn about each other's cultures during the event. Participants can also visit a traditional folk village and a Buddhist temple near the event spot. They will also learn how to make Kimchi, a traditional Korean side dish made of fermented cabbage, and Tteokbokki, a menu of finger-sized rice cakes simmered in fiery red spicy chili sauce.

On August 6, teenagers will exchange each other's cultural assets such as costumes, food, and games, through a cultural exchange program. After the exchange program, participants can enjoy performances by 11 K-pop bands including IVE, a girl group under K-pop band MONSTA X's agency Starship Entertainment, and STAYC, a six-member K-pop girl group.

South Korea has been busy building safety infrastructure to host the festival without accidents as Saemangeum was also affected by a series of torrential rain earlier this month. Organizers have set up a hundred temporary pumps to expedite drainage near the event site. The water level of an artificial lake in Saemangeum will be reduced by 0.5 meters (19 inches).

Event organizers will run an emergency operation center for 24 hours and cooperate with the local police office and fire station.

© Aju Business Daily & www.ajunews.com Copyright: All materials on this site may not be reproduced, distributed, transmitted, displayed, published or broadcast without the authorization from the Aju News Corporation.