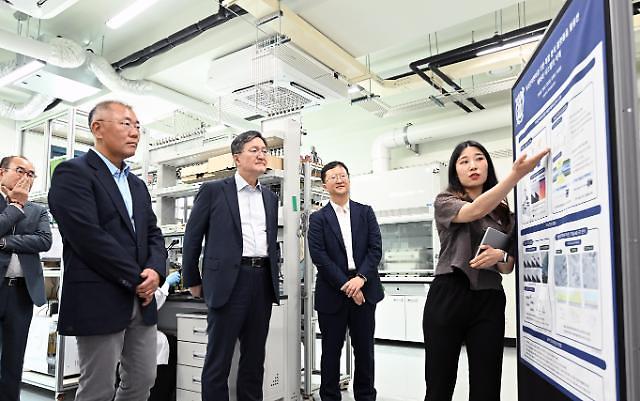 SEOUL -- In a bid to acquire homemade technology for next-generation high-performance batteries that are used in electric vehicles and energy storage systems, Hyundai Motor and the Seoul National University have opened a joint research center.

The establishment of the joint battery research center has been discussed since November 2021 when the South Korean carmaker and the prominent university signed a memorandum of understanding to cooperate in the mid and long-term research of battery technology and the establishment of a research center.

Hyundai Motor said that more than 30 billion won ($23.4 million) by 2030 to support researchers and various projects carried out by the research lab. "The reason that Hyundai develops various mobility devices with excellent-quality batteries is because of our sense of mission to pass on a sustainable environment to the next generation," Hyundai Motor Group Chairman Chung Eui-sun said during the opening ceremony of the research center on July 25.

According to the carmaker, the battery research center located in the Seoul National University campus in southern Seoul will become a foundation for researching and developing cutting-edge battery-related technologies including lithium-metal batteries, solid-state batteries, battery management systems (BMS), and battery manufacturing processes.

A total of 21 researchers from various institutes including the Seoul National University, Korea Advanced Institute of Science and Technology (KAIST), Ulsan National Institute of Science and Technology (UNIST), Daegu Gyeongbuk Institute of Science and Technology (DGIST), Hanyang University, Sungkyunkwan University, and Chungnam National University, will participate in 22 joint research projects.

© Aju Business Daily & www.ajunews.com Copyright: All materials on this site may not be reproduced, distributed, transmitted, displayed, published or broadcast without the authorization from the Aju News Corporation.