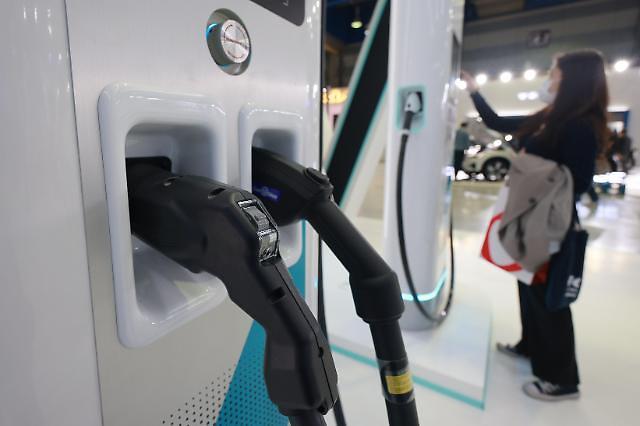 SEOUL -- To gain a competitive edge in North America's electric vehicle charging market, Hyundai and Kia will establish a joint venture with five major automakers -- BMW, General Motors, Honda, Mercedes-Benz, and Stellantis. Without disclosing details on the investment amount, the seven carmakers said they would install at least 30,000 fast chargers in urban areas and highways in the United States and later expand its infrastructure to Canada. The deal can help the South Korean companies compete with Tesla's ultra-fast charging network in the U.S.

According to data released by the U.S. Department of Energy, some 32,000 public direct current fast chargers were available in the U.S. as of July 2023. The fast chargers are currently used by about 2.3 million electric vehicles (EVs) -- a ratio of 72 vehicles per charger. The energy department said Tesla's products account for about 60 percent of fast chargers installed in the nation.

"The joint venture will include the development of a new, high-powered charging network with at least 30,000 chargers to make zero-emission driving even more attractive for millions of customers," the seven companies said in a joint statement on July 27. After opening the first stations in the summer of 2024 in the U.S., the joint venture will expand its business scope to Canada.

Through cooperation with global carmakers, Hyundai and Kia can also receive subsidies from the U.S. government pushing for the national electric vehicle infrastructure (NEVI) project. President Joe Biden's administration has set a subsidy budget of about $5 billion by 2030 for the NEVI program. This is a large-scale project to build a total of 500,000 charging stations across the U.S. by installing fast or super-fast charging stations every 50 miles (80 kilometers) on highways.

"Hyundai's expertise in electrification will help redefine the charging landscape and we look forward to working with our other shareholders as we create this expansive high-powered charging network," Hyundai Motor CEO Chang Jae-hoon said in a statement.

"Kia is proud to be an important part of this joint venture with other reputable automakers as we embark on a journey towards seamless charging experiences for our customers and further strengthening Kia's brand identity in the EV market," said Kia Motor CEO Song Ho-sung.

© Aju Business Daily & www.ajunews.com Copyright: All materials on this site may not be reproduced, distributed, transmitted, displayed, published or broadcast without the authorization from the Aju News Corporation.