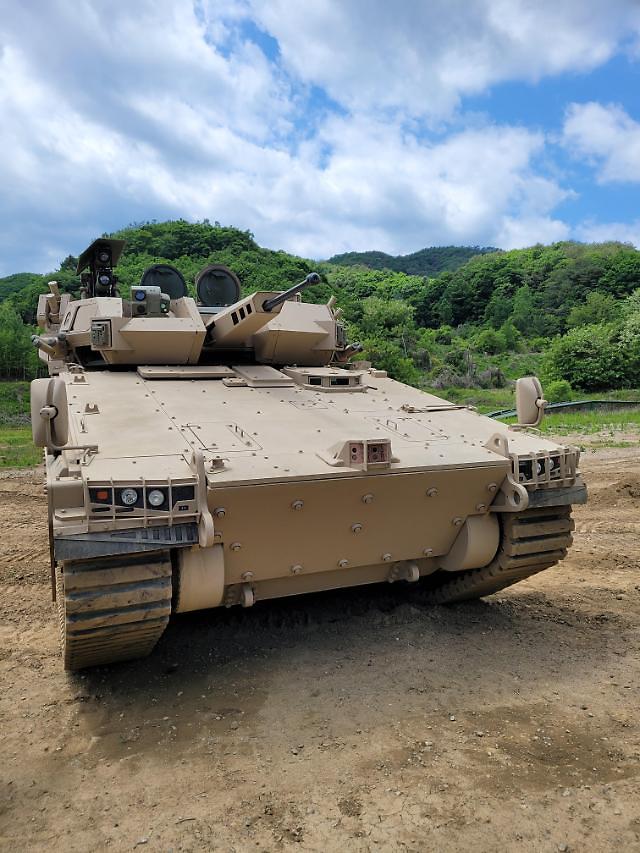 SEOUL -- Hanwha Aerospace, a South Korean defense contractor, has secured a contract to build 129 Redback infantry fighting vehicles for the Australian government. The South Korean company had been locked in a competition for about five years with Rheinmetall Defense of Germany for Australia's Land 400 Phase 3 program to acquire armored vehicles that would replace old M113AS3 armored personnel carriers.

Redback, a 42-ton IFV with a 40mm caliber automatic cannon specially developed for Australia, was designed to maximize the survivability of soldiers. It has a thermal camouflage system that provides a stealth function to avoid heat-tracking missile attacks and the detection of thermal monitoring equipment.

Using an active electronically scanned array (AESA) radar, an "Iron Fist" hard-kill active protection system detects and intercepts anti-tank missiles. Iron Fist can effectively intercept projectiles such as the RPG-7 anti-tank grenade launcher and the FGM-148 Javelin, an American-made portable anti-tank missile system.

Hanwha Aerospace said on July 27 that the Redback IFV was selected as the preferred negotiating model among the final two candidates for the IFV in Australia's armored vehicle modernization project. The Australian government's decision came four months after the Australian Army cut down the number of IFVs from 450 to 129 through the Defense Strategic Review in April 2023. The outdated M114AS3 APCs were adopted by the Australian Army in the 1960s.

When the contract is finalized, Redback IFVs will be manufactured at a factory that is currently being constructed in the Australian port city of Geelong. The factory named Hanwha Armoured Vehicle Centre of Excellence (H-ACE) will be built by 2024 to manufacture Huntsman AS9, the Australian version of K9 howitzers, and AS10, the Aussie version of the K10 ammunition resupply vehicle.

"We will make every effort to target advanced defense markets, including Europe, starting with the Australian market," Hanwha Aerospace CEO Son Jae-il said. He also expressed gratitude towards South Korea's defense ministry, the South Korean Army, the Defense Acquisition Program Administration, and the Agency for Defense Development for providing support for the export of the Redback.

© Aju Business Daily & www.ajunews.com Copyright: All materials on this site may not be reproduced, distributed, transmitted, displayed, published or broadcast without the authorization from the Aju News Corporation.