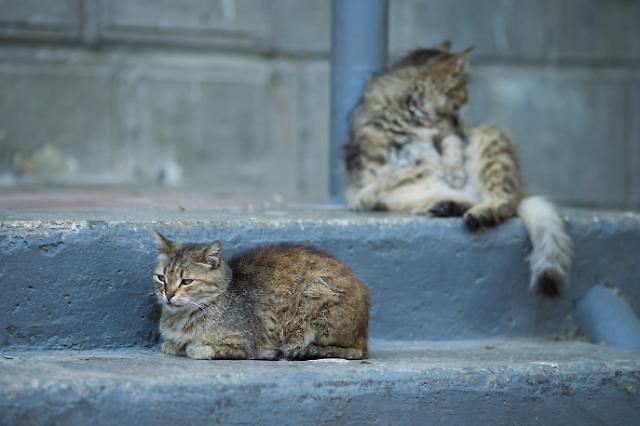 SEOUL -- South Korea's disease control body has been put on high alert after two stray cats at an animal shelter near central Seoul were diagnosed with avian influenza (H5N1) in the last week of July. Another cat was suspected of being infected with deadly influenza after it died while being diagnosed at a different shelter four days past the initial diagnosis of the two street cats.

Cats are one of the few species that can get infected with avian influenza. The specific virus that they get is the H5N1 virus which has infected a variety of wild cats including tigers and leopards. Because the virus infects the lungs of cats, it is one of the preferred model animals to study the effects of H5N1 in humans. The H5N1 virus has not adapted to transfer between mammals, but there is a fear that this can occur.

In 2017, the agriculture ministry rolled out a project to capture 10 stray cats each from 18 areas across South Korea to collect blood samples after two avian influenza-infected street cats were found dead near a poultry farm in Pocheon north of Seoul. More than 400,000 birds were culled in 2016 to prevent the spread of bird flu near Seoul.

The Korea Disease Control and Prevention Agency (KDCA) said that two cats were diagnosed with H5N1 at an animal shelter near central Seoul on July 25 and a cat suspected of being infected with the bird flu died at a shelter in southern Seoul. The cats showed respiratory symptoms and loss of appetite. No humans who came in contact with the cats showed any symptoms of the virus.

The disease control body is on high alert as the two cats diagnosed with the H5N1 virus were survivors among 38 other cats that were killed by the virus at the shelter. Seoul City has conducted tests on 57 dogs and 45 cats at shelters scattered around the capital city and all samples showed negative results. Seoul also checked 430 animal-related facilities located within a 10-kilometer (6.2 miles) radius of where the infected cats were diagnosed with avian influenza and found no remnants of the virus.

Although there's no known case of human infection of the H5N1 virus, the KDCA warned South Koreans that they should keep a close eye on their pets to monitor for symptoms. "People should not come in contact with wild birds or street cats that are difficult to check their health conditions," said the KDCA in a statement on July 30 and added: "Although the risk of infection from pet birds or cats at home is low, if they show symptoms such as decreased activity, drooling, or breathing difficulties, direct contact should be avoided.

© Aju Business Daily & www.ajunews.com Copyright: All materials on this site may not be reproduced, distributed, transmitted, displayed, published or broadcast without the authorization from the Aju News Corporation.