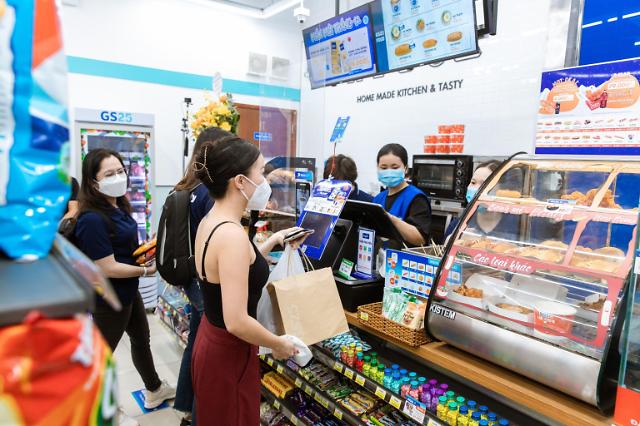 SEOUL -- The operator of South Korea's convenience store franchise GS25 aims to increase the number of stores in Viet Nam to around 280 by the end of 2023 from the current 221. Along with Vietnamese food, the convenience store franchise operator is currently selling South Korean snacks including Tteokbokki, a menu of finger-sized rice cakes simmered in fiery-red spicy chili sauce.

GS Retail, the operator of GS25, made a foray into the Vietnamese convenience store market in 2018. According to the company's communications manager Kim Tae-eon, ready-to-eat Tteokbokki and Gimbap, a Korean dish of rice, sausage, and other ingredients wrapped in sheets of laver, were especially popular in the Southeast Asian country. In March 2023, GS Retail launched its 221st store in Vung Tau some 100 kilometers (62 miles) southeast of the capital city.

"Our objective is to run about 280 stores by the end of this year," Kim said during an interview on August 3. He added that GS Retail had the largest number of stores in Viet Nam's southern regions at the end of July, beating its competitors such as Circle K and 7-Eleven. Kim estimated the number of Circkle K stores in Southern Viet Nam was about 203 and 7-Eleven stores was around 92.

Beyond the domestic market, GS Retail hopes to become the leading convenience store brand in Asia. Kim said the South Korean brand also looked into building a partnership with Malaysian retail giant KK Group in 2022. Without disclosing details, he told Aju Korea Daily that GS Retail is not carrying out business activities in Malaysia at the moment.

Other South Korean convenience store operators are also expanding into other Asian markets. BGF Retail, the operator of South Korea's major convenience store franchise CU, was operating 300 stores in Mongolia and 130 stores in Malaysia as of March 2023. The Mongolian store in Ulaanbaatar sells South Korean-style fried menus and Tteokbokki.

Emart24, the convenience store chain of domestic retail giant Shinsegae, opened its third store in Singapore in July 2023. The store provides South Korean instant noodles known as Ramyeon and Tteokbokki.

In a survey of about 80,000 Japanese, conducted by the Korea Tourism Organization (KTO) in 2015, Tteokbokki was selected as Japanese' 10th favorite Korean food. In 2022, a total of $765,430,000 worth of Ramyeon packs were exported, recording the largest amount ever. China was the largest importer, followed by the United States and Japan.

© Aju Business Daily & www.ajunews.com Copyright: All materials on this site may not be reproduced, distributed, transmitted, displayed, published or broadcast without the authorization from the Aju News Corporation.