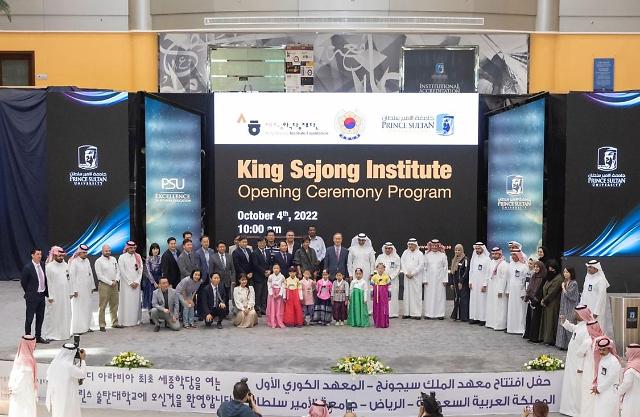 SEOUL -- South Korea's culture ministry revealed its plan to secure about 500,000 Korean language learners by 2027 through state-run Korean language institutes in foreign countries. As of 2022, the education group called the "King Sejong Institute" had about 147,000 students. Currently, the country is running 248 language centers in 85 countries and the culture ministry aims to increase the number of institutes to up to 350.

The King Sejong Institute was launched in 2007 to popularize the Korean language and culture to meet growing demands from Korean learners all around the world. The number of King Sejong centers skyrocketed to 248 in 2023 from 13 in 2007. They are located in various regions in Asia, Africa, the Americas, Europe, and Oceania. The institute was named after Sejong the Great, a king who invented the Korean alphabet called "Hangul" during the Joseon dynasty that ruled the Korean Peninsula from 1392 to 1897.

The Ministry of Culture, Sports and Tourism said it would increase the language institutes to 350 by 2027. A total of 350 language instructors will be sent overseas for the next four years and 500 local lecturers will be hired. South Korean pop and drama content will be incorporated to create new educational materials.

The culture ministry announced the plan on August 7 during the World Korean Educator Conference 2023, a four-day event designed to connect Korean language educators. After various types of training, participants will present new lesson plans on August 10. The conference is attended by some 250 educators and King Sejong officials.

According to data released by DuoLingo, a language learning app used by more than 50 million people each month, Korean ranked as the second fastest-growing language globally in 2020. It held the seventh position in terms of popularity among languages studied through the DuoLingo app. Korean garnered popularity among users from the United States, China, India, Indonesia, and the Philippines.

In July 2023, U.S.-based entertainment data provider Luminate released a report that Korean language-based songs became the third most popular music in the U.S. after English and Spanish-based music in the first half of this year. The U.S. was the second largest K-pop album importer in the world for the first six months in 2023 with an import amount of $25.5 million.

© Aju Business Daily & www.ajunews.com Copyright: All materials on this site may not be reproduced, distributed, transmitted, displayed, published or broadcast without the authorization from the Aju News Corporation.