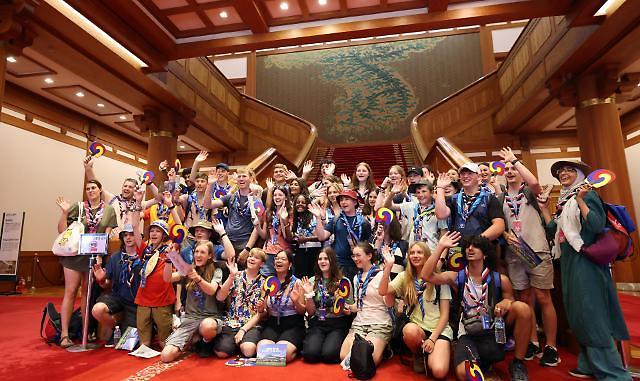 SEOUL -- A total of 16 K-pop bands including girl groups NewJeans and IVE, and three solo artists will wrap up the 25th World Scout Jamboree at Seoul's iconic football stadium with a total capacity of 66,704. About 1,100 buses will carry some 40,000 Jamboree participants to the stadium built for the 2002 FIFA World Cup.

The global Scouting event started in Saemangeum, a reclaimed land area some 200 kilometers (124 miles) south of the capital city, on August 1. The event was originally attended by around 43,000 members from 158 countries, including Scouts, Girl Guides, and volunteer guides. However, the global festival encountered unexpected challenges in which bare necessities -- food, water, electricity, sanitation facilities, drainage systems, and toilets, were unprepared.

Jamboree members were also exposed to a series of heat waves. The event spot did not have enough shaded areas to take shelter from intense sunlight. The ground was waterlogged and muddy, making it extremely challenging to set up tents. Members from the United States and Britain left the campsite earlier than other countries' contingents.

On August 7, the World Organization of the Scout Movement decided to pull participants out from the Saemangeum area six days after the event was kicked off due to Typhoon Khanun which was creeping northwards from the Pacific Ocean to South Korea. Some 37,000 Jamboree participants migrated to eight cities and provinces including Seoul and its surrounding cities.

"The closing ceremony will take place today at the Seoul World Cup Stadium in Sangam-dong, Seoul from 5:30 pm for 30 minutes," Kang Jeong-won, a spokesperson for South Korea's culture ministry said during a media briefing on August 11. During the ceremony, a South Korean participant will hand over the Jamboree's official flag to a member of Poland, the host country of the 26th Jamboree in 2027. Dinner menus will be provided at 6 p.m.

Participants can enjoy a K-pop concert by 19 teams -- NewJeans, IVE, ITZY, NCT Dream, Mamamoo, The New Six, The Boyz, Shownu & Hyungwon, fromis_9, P1Harmony, ZeroBaseOne, ATBO, xikers, Holybang, KARD, Libelante, Kwon Eun-bi, Kang Daniel, and Jo Yu-ri.

Seoul City will run four onsite medical centers in case of emergency. Police officers and security guards will be deployed to handle various types of safety incidents. Jamboree attendees will start leaving South Korea on August 12.

© Aju Business Daily & www.ajunews.com Copyright: All materials on this site may not be reproduced, distributed, transmitted, displayed, published or broadcast without the authorization from the Aju News Corporation.