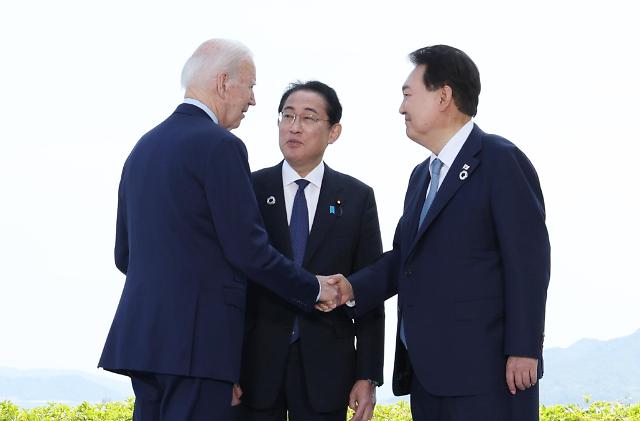 SEOUL -- South Korean President Yoon Suk-yeol will depart Seoul on August 17 to attend the South Korea-U.S.-Japan summit meeting scheduled to be held at Camp David, the official United States presidential retreat near Washington, D.C., on August 18.

Yoon will depart in the afternoon from Seoul Airport on a presidential jet for his trip to the U.S. and First Lady Kim Geon-hee will not accompany the president. Yoon's father passed away on August 15 and the president will complete his three-day mourning procedures for his late father before he leaves for the trilateral summit. President Yoon will take some rest after arriving in the U.S. on the 17th (local time).

Camp David, where U.S. President Joe Biden has invited President Yoon and Japanese Prime Minister Fumio Kishida, is located in the Catoctin Mountains of Maryland and serves as the official retreat for the U.S. President. The three leaders will engage in a trilateral summit meeting on the morning of August 18, followed by a summit luncheon and joint press conference.

The three leaders will discuss shared visions and fundamental principles for trilateral cooperation among South Korea, the U.S., and Japan, as well as practical collaborative measures to address the nuclear and missile threats posed by North Korea, and the establishment of a multi-layered cooperative framework.

The discussions are expected to cover a wide range of issues, including not only security and military matters such as the regularizing of trilateral military exercises and intelligence sharing on North Korean missiles but also non-military issues such as artificial intelligence (AI), cyber, and economic security.

© Aju Business Daily & www.ajunews.com Copyright: All materials on this site may not be reproduced, distributed, transmitted, displayed, published or broadcast without the authorization from the Aju News Corporation.