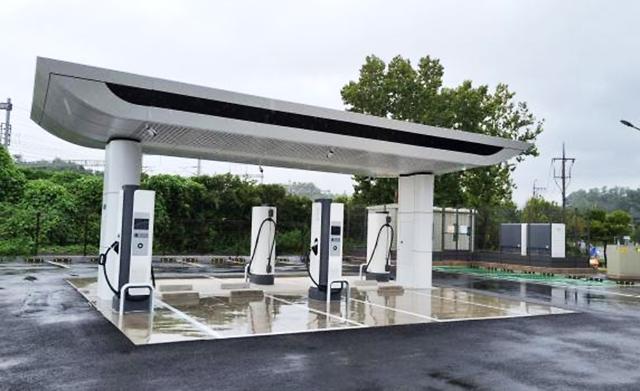 SEOUL -- "E-pit," an electric vehicle charging service platform created by South Korea's Hyundai auto group, was installed at a public parking lot in the southeastern industrial city of Ulsan. Unlike normal chargers take about 40 minutes to charge 80 percent of electric cars' battery, E-pit can charge 80 percent of the battery in just 18 minutes.

South Korea had 205,205 EV chargers across the country with some 390,000 registered EVs as of January 2023. Currently, more than 90 percent of installed chargers are slow chargers that take about eight hours to completely charge an ordinary EV. Data released by the trade ministry showed that the domestic sales of EVs are increasing by some 80 percent every year.

Hyundai showcased E-pit in 2021 to accelerate the popularity of EVs. The carmaker aims to increase E-pit stations to 44 by the second half of 2023 from the current 34. The automaker is operating 12 ultra-fast charging stations in highway service areas.

Ulsan said an E-pit station installed at a public parking lot in the city's southeastern region will start its operation on August 18. A total of one billion won ($745,434) was injected to build the station with four 260 kilowatt-hour-class chargers on the 6,361-square-meter-wide parking lot, which is the size of eight soccer fields.

To expand the establishment of EV chargers, Seoul has also tried various experimental methods. In May 2022, the capital city revealed its plan to install 12,000 chargers in residential areas. A flowerbed of an apartment complex was turned into a parking lot with chargers so they could be used by residents and courier vehicles.

© Aju Business Daily & www.ajunews.com Copyright: All materials on this site may not be reproduced, distributed, transmitted, displayed, published or broadcast without the authorization from the Aju News Corporation.