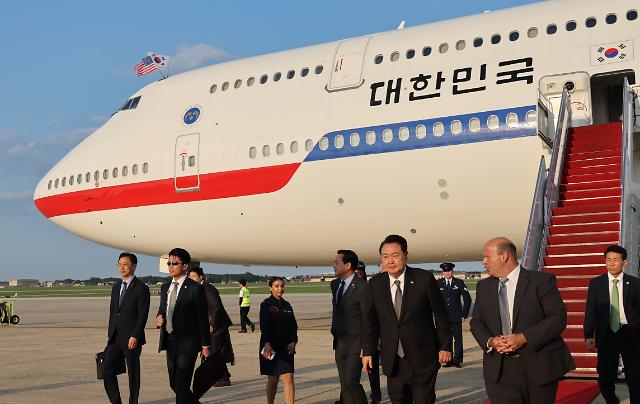 SEOUL -- South Korea's presidential jet carrying President Yoon Suk-yeol has landed at Andrews Air Force Base in Maryland near Washington D.C. on August 17 (local time). The South Korean president will meet United States President Joe Biden and Japanese Prime Minister Fumio Kishida in a trilateral summit meeting on August 18.

On the day of the South Korea-U.S.-Japan trilateral summit, President Yoon will move to Camp David, the official retreat for U.S. presidents, with his counterparts and engage in meetings to discuss various agendas including North Korea's nuclear missile threats, military cooperation, and the establishment of multi-layered cooperative framework. The meetings will be followed by a summit dinner and a joint press conference.

Camp David, where U.S. President Joe Biden has invited President Yoon and Prime Minister Kishida, is located in the Catoctin Mountains of Maryland and serves as the official retreat for the U.S. President. Other than the trilateral talks, South Korea-U.S. and South Korea-Japan bilateral talks are also scheduled. All diplomatic activities are set to take place at Camp David until late afternoon.

This is the first time for foreign leaders to visit Camp David in eight years. It is the first time for a South Korean president to be invited to the U.S. presidential retreat in 15 years after former president Lee Myoung-bak visited Camp David in 2008. President Yoon is scheduled to arrive home on August 20 after completing all diplomatic activities.

© Aju Business Daily & www.ajunews.com Copyright: All materials on this site may not be reproduced, distributed, transmitted, displayed, published or broadcast without the authorization from the Aju News Corporation.