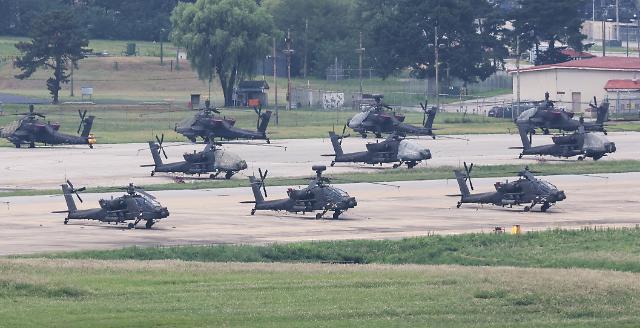 SEOUL -- South Korea and the United States have launched an 11-day annual joint military exercise called "UFS - Ulchi Freedom Shield" designed to fortify the combined defense posture and alliance response capabilities through various scenarios that simulate real war situations.

According to the South Korean government on August 21, this year's war scenarios have gone through significant changes to focus on the joint field training exercise (FTX) that simulate upgraded North Korean nuclear and missile threats, battlefields experienced in Ukraine, and counteractions against fake news distributed by Pyongyang during wartimes and ordinary days.

"We will train rapid transition processes to be able to change our status into a war operational state by applying scenarios that simulate the rapid escalation from peaceful days to war times," a government official said in a statement.

In this year's joint exercise, all United Nations Command Member States will participate in different capacities. Australia, Canada, France, Britain, Greece, Italy, New Zealand, Philippines, Thailand, and the U.S. will participate in the massive military exercise. The Neutral Nations Supervisory Commission (Sweden and Switzerland) will observe and monitor the UFS exercise, to fulfill duties prescribed by the Armistice Agreement.

The South Korean and U.S. military bodies will also focus on the possibility of North Korea's missile drills during the joint military exercise period. For decades, Pyongyang reacted very sensitively towards joint military drills that took place in South Korea. North Korea expressed distress by firing off missiles and inter-continental ballistic missiles (ICBMs) into the East Sea multiple times.

The National Intelligence Service (NIS) said on August 17 during a parliamentary meeting that Pyongyang is currently preparing various provocative actions including a test fire of an ICBM.

The Korean Central News Agency (KCNA), North Korea's state-operated news agency, reported on August 21 that the North Korean leader Kim Jong-un visited a Korean People's Army (KPA) Navy's East Sea Fleet base and inspected a staged launch drill of strategic cruise missiles.


© Aju Business Daily & www.ajunews.com Copyright: All materials on this site may not be reproduced, distributed, transmitted, displayed, published or broadcast without the authorization from the Aju News Corporation.