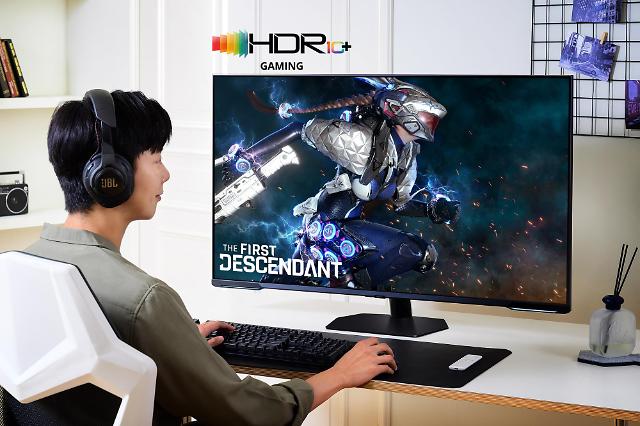 SEOUL -- Major South Korean game publisher Nexon has become the world's first game publisher to adopt Samsung's "HDR10+," a video processing technology standard that can provide accurate and vibrant colors in real-time. The technology will be used for the game publisher's "The First Descendant," a third-person shooter game that incorporates role-playing features.

While the previous HDR video technology processes images on the basis of a whole volume, HDR (high-dynamic-range) 10+, showcased in 2017, adjusts brightness levels on a scene-by-scene or frame-by-frame basis. Because HDR10+ ensures precise and vibrant colors tailored to every scene, game developers can provide more accurate and vivid images.

Samsung said in a statement on August 21 Nexon's third-person shooter game would adopt HDR10+. Nexon said The First Descendant's open beta test will start on September 19, 2023. "By adopting HDR10+ GAMING, we are bringing the game to life in a way that was previously not possible," said Nexon's executive vice president Kim Hyun.

"We're thrilled to join forces with NEXON, a true pioneer in video games, to introduce the world's first HDR10+ GAMING title, 'The First Descendant,'" said Seokwoo Jason Yong, the executive vice president at Samsung's visual display business division. The conglomerate said video processing technology was earlier applied to Neo QLED TVs.

Samsung has forged an alliance with various industry partners to accelerate the expansion of its HDR10+ ecosystem. The HDR10+ alliance includes filmmakers -- Warner Brothers and 20th Century Fox -- and technology companies such as Qualcomm and IMAX as well as consumer electronics companies, TCL and Hisense.

© Aju Business Daily & www.ajunews.com Copyright: All materials on this site may not be reproduced, distributed, transmitted, displayed, published or broadcast without the authorization from the Aju News Corporation.