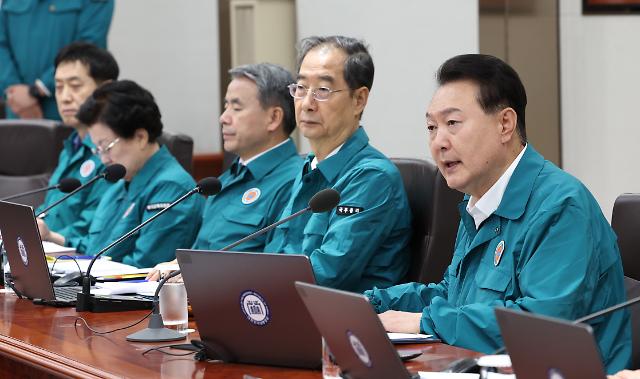 SEOUL -- South Korean President Yoon Suk-yeol agreed with leaders from the United States and Japan to upgrade the current security alliance at the trilateral summit meeting held at Camp David, the official U.S. presidential retreat near Washington, D.C. on August 18. The three leaders will meet at least once a year and build a real-time warning system for North Korea's missiles.

"The cooperation between South Korea, the U.S., and Japan, which remained in regional alliance on the Korean Peninsula, will be upgraded into a pan-regional cooperation that contributes to the establishment of freedom, peace, and prosperity in the entire Indo-Pacific region," Yoon said during a Cabinet meeting on August 21. The South Korean leader said the three nations will focus on monitoring Pyongyang's illegal cyber activities and carry out joint military exercises on a regular basis.

Yoon added: "The level of supply chain information and resilience will be dramatically improved if the three countries with advanced technology and industrial bases connect their supply chain early warning systems." The trilateral cooperation body will also work with the Quadrilateral Security Dialogue (Quad), a U.S.-led regional forum that includes Australia, India, and Japan, and AUKUS, a security alliance between Australia, Britain, and the U.S.

The Cabinet meeting took place on the day when South Korea and the U.S. launched an 11-day annual joint military exercise "UFS - Ulchi Freedom Shield." The field training exercise is designed to simulate upgraded North Korean nuclear and missile threats, battlefields experienced in Ukraine, and counteractions against fake news distributed by Pyongyang during wartime and ordinary days.

During the Cabinet meeting, Yoon urged that the three nations could lead the progress of advanced technology in the global market through trilateral technology cooperation. He said technical cooperation is directly related to emerging technologies such as artificial intelligence (AI), quantum computing, and technology leakage prevention.

The summit meeting was held at Camp David located in the Catoctin Mountains of Maryland. It serves as the official retreat for the U.S. President. This year's summit was the first time for a South Korean leader to be invited to the U.S. presidential retreat in 15 years after former president Lee Myoung-bak visited Camp David in 2008.

© Aju Business Daily & www.ajunews.com Copyright: All materials on this site may not be reproduced, distributed, transmitted, displayed, published or broadcast without the authorization from the Aju News Corporation.