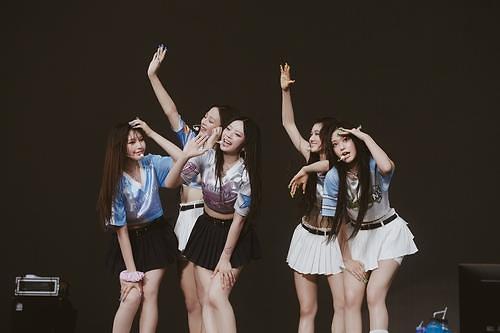 SEOUL -- K-pop girl band NewJeans has performed in front of some 30,000 fans at Summer Sonic, a major music event held in Japan. The five-member band, debuted in July 2022, showcased 11 songs including Attention and Hype Boy for about 40 minutes.

NewJeans was invited to the operator of Summer Sonic 2023 only after about a year of its debut, the band's agency said. This year's summer music festival took place at "Zozo Marine Stadium," a baseball stadium in Chiba on August 19 and August 20. On the first day of the event, NewJeans performed songs that are included in "Get Up," a mini album that topped Billboard's top 200 popular albums chart. The album's title track "Super Shy" ranked 44th on Billboard's top 100 popular song chart on August 5.

Prior to the festival in Japan, group members performed at the Lollapalooza Festival 2023, a music festival in Chicago. Lollapalooza is an annual global event that was held in various countries including the U.S., Chile, and Brazil.

The sister band of BTS has captivated global fans through dance songs such as Attention, Ditto, and OMG. Attention was selected by Billboard as one of the top 25 K-pop songs of 2022. OMG was ranked seventh among 74 songs of the first half of 2023 by American magazine Rolling Stone. The rookie girl group was formed by ADOR under the command of Min Hee-jin, a genius idol incubator who planned concepts for SM Entertainment groups such as Girls' Generation, f(x), and Red Velvet.

© Aju Business Daily & www.ajunews.com Copyright: All materials on this site may not be reproduced, distributed, transmitted, displayed, published or broadcast without the authorization from the Aju News Corporation.