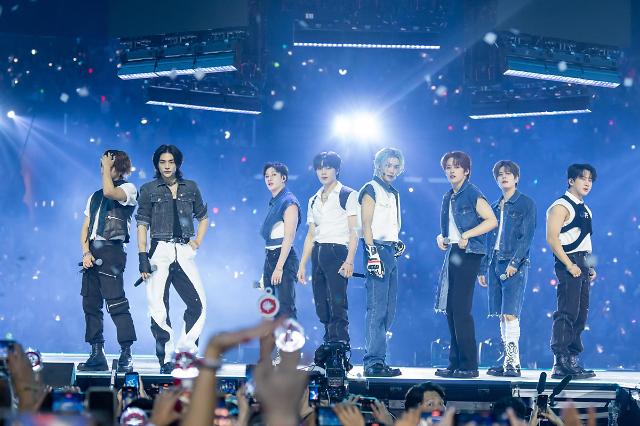 SEOUL -- CJ ENM, a leading creator and distributor of the Korean cultural wave, has attracted some 140,000 global fans through KCON, an annual Korean culture convention. A total of 21 performance teams including boy band Stray Kids and girl band IVE showcased their talents at the three-day event in Los Angeles. This year, the K-pop concert festival attracted about 50,000 more people than the previous festival held in 2022 with about 90,000 global audience.

CJ ENM said this year's KCON took place at the Los Angeles Convention Center and an indoor arena called "Crypto.com Arena" for three days starting on August 18. The festival was also consumed by about 5.9 million people online. Fans could enjoy the concert by K-pop bands and solo artists such as MONSTA X's Shownu and Hyungwon, Zerobaseone, ATEEZ, Cravity, and Taemin.

During the festival, 50 South Korean companies promoted their products. At the LA Convention Center, visitors could explore Samsung Electronics' new fordable smartphones -- Z Flip 5 and Z Fold 5.

"I feel refreshed to see visitors of all ages enjoying the culture and having fun with friends and family," CJ ENM's music content business head Shim Jun-beom said in a statement on August 21. "We will continue to try our best so that more people can explore K-pop and South Korean culture in a new way through KCON."

The Korean culture convention was first held in October 2012, three months after the release of Psy's Gangnam Style. Since then, KCON has been held over 20 times across the U.S., France, Australia, Mexico, and Japan. The convention, which was scheduled to take place in New York in June 2020, was canceled due to a COVID-19 outbreak. CJ ENM streamed the event live on YouTube, attracting 17.4 million fans.

© Aju Business Daily & www.ajunews.com Copyright: All materials on this site may not be reproduced, distributed, transmitted, displayed, published or broadcast without the authorization from the Aju News Corporation.