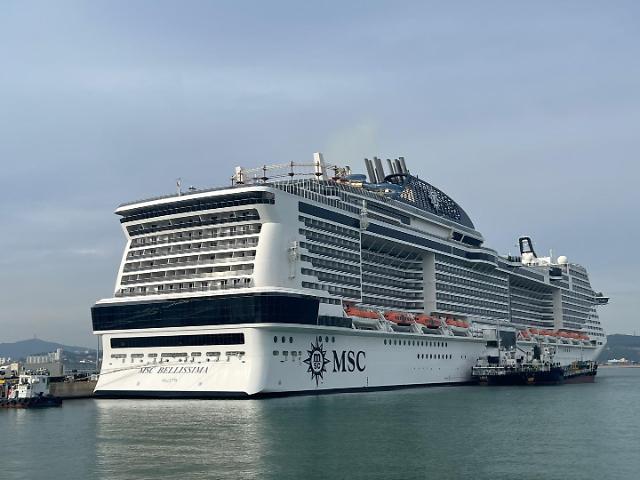 SEOUL -- A cruise ship owned by an operator based in Shanghai will carry Chinese tourists to the southern port city of Busan in 2024. The ship with a maximum capacity of 1,200 people will visit up to 25 times next year.

Busan with a population of some 3.5 million is a popular travel destination for both South Korean people and foreign visitors who seek unique and vibrant cultural experiences. The city is well-known for its beautiful seaside views as well as tasty food menus that include fresh seafood. The port city was visited by some 28 million people in 2019, just before the COVID-19 pandemic.

The Busan Port Authority said on August 22 that a cruise ship from Shanghai has applied for berthing at Busan Port. A total of 25 schedules were made for a full-year schedule for 2024. The cruise operator will start visiting Busan in January 2024 and the ship will stop over in Busan before it heads off to Japan.

Chinese cruise ships, mainly carrying group tourists, visited Busan Port about 200 times in 2016 before Beijing imposed a travel ban to South Korea as part of retaliatory steps over the installment of an advanced American missile shield system in 2017.

About eight million Chinese tourists visited South Korea in 2016 and the big-spending tourists were welcomed by duty-free shop operators and shop owners in tourist hotspots. China has been regarded as Asia's biggest consumer of Hallyu which boosted sales of South Korean cosmetics and other K-pop-related products.

In early August 2023, China lifted the travel ban to South Korea for the first time in six years and five months. According to sources from China's travel industry, 52 cruise boats scheduled to depart China on August 11 to visit South Korea's southern resort island of Jeju were fully booked in just one day. South Korea's duty-free industry welcomed Beijing's decision with open arms, hoping to regain its former sales level.

© Aju Business Daily & www.ajunews.com Copyright: All materials on this site may not be reproduced, distributed, transmitted, displayed, published or broadcast without the authorization from the Aju News Corporation.