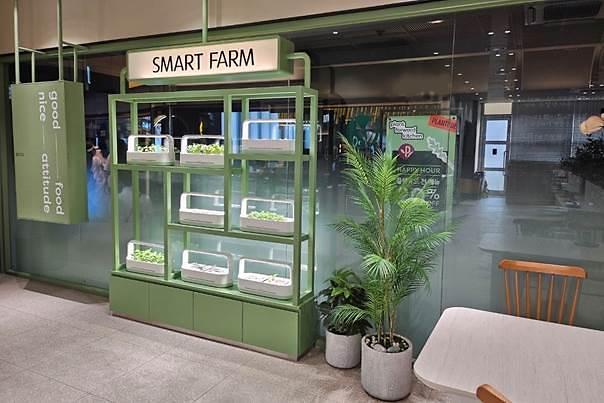 SEOUL -- Pulmuone Food & Culture, the cafeteria service management wing of Seoul-based food company Pulmuone, has established a miniature smart farm infrastructure at its vegan restaurant in central Seoul. Using LG's smart gardening device, the restaurant operator will use plants and herbs as ingredients for vegan food menus.

A smart farm is an indoor agricultural system that combines information and communication technology (ICT) with agricultural elements. Without having to worry about weather conditions, smart farm owners can grow plants as the indoor farm automatically analyzes the temperature, humidity, and amount of sunlight using the internet of things (IoT) technology.

Pulmuone Food & Culture is currently running two vegan restaurants called "Plantude" in the capital city targeting South Korea's steadily growing vegan population. At the second Plantude store located in Seoul's central district of Yongsan, visitors can enjoy various plant-based food menus such as vegan Bulgogi Deopbap, a rice bowl topped with Korean-style barbecued marinated meat alternatives, and a tofu dish that contains black olives and cherry tomatoes.

Pulmuone said its second Plantude store adopted eight "LG tiiun mini" devices to grow plants for salad menus. The plant-growing device incorporates light-emitting diode (LED) lighting and automatic temperature control functions. "We will try to expand Plantude into a complex cultural space where customers can explore a healthy diet and a sustainable lifestyle through vegetarianism," Pulmuone Food & Culture's customer solution division head Kim Kyung-soon said in a statement on August 22.

Thanks to increased awareness of health and well-being, the number of vegans has risen gradually in South Korea. According to the Korea Vegan Union, the number of vegans skyrocketed to about two million in 2021 from about 150,000 in 2008. The organization estimated that there were 350 to 400 vegan restaurants as of May 2021.

Data released by market research firm Statista showed that the global plant-based meat market which stood at $10.11 billion in 2022 is projected to reach $33.9 billion in 2027. To gain a competitive advantage in the global vegan meat market, Pulmuone partnered with the South Korean office of International Flavors & Fragrances, a United States-based food and beverage ingredient developer, in 2021. The South Korean company is also supplying vegan meat products to 18 American universities including the University of Massachusetts Amherst.

© Aju Business Daily & www.ajunews.com Copyright: All materials on this site may not be reproduced, distributed, transmitted, displayed, published or broadcast without the authorization from the Aju News Corporation.