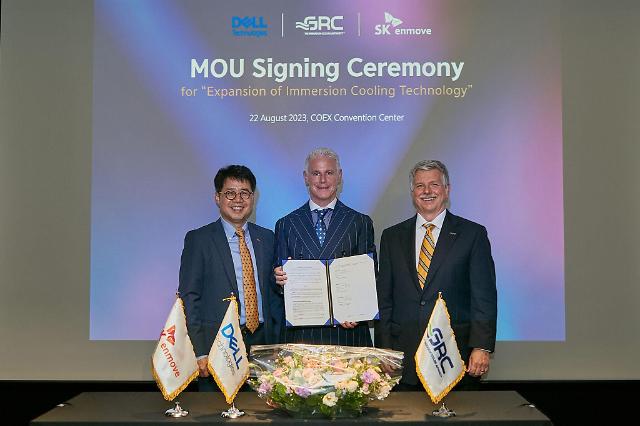 SEOUL -- Targeting the rapidly growing liquid immersion cooling market, SK Enmove, the lube-making wing of South Korea's SK Group, will work with GRC, an American liquid immersion cooling solution provider for data centers, and American information technology company Dell Technologies. The three companies will cooperate to commercialize liquid immersion cooling technology for data centers.

Cooling systems are essential for data centers filled with data storage servers and computing devices as they emit a large amount of heat. Liquid immersion cooling significantly improves data center server cooling efficiency by submerging them in high-performance non-conductive cooling fluids. The technology can reduce overall data center power consumption by 30 percent compared with the chilled air-cooling method.

SK Enmove said the company signed an agreement with GRC and Dell Technologies to commercialize liquid immersion cooling technology. The South Korean firm will provide oil for the liquid immersion cooling system while GRC the two U.S. companies will cooperate to develop technologies and components necessary for the standardization of liquid cooling systems.

"Through this cooperation, we will contribute to the activation of the liquid immersion cooling market and solidify our position as a company that improves electric energy efficiency," SK Enmove CEO Park Sang-kyu said in a statement on August 23.

According to data released by market research firm Future Market Insights, the global liquid immersion cooling market, which stood at $330 million in 2022, is projected to reach about $2.1 billion by 2032. In March 2022, SK Enmove made an equity investment of $25 million in GRC to accelerate its liquid-based thermal management business.

© Aju Business Daily & www.ajunews.com Copyright: All materials on this site may not be reproduced, distributed, transmitted, displayed, published or broadcast without the authorization from the Aju News Corporation.