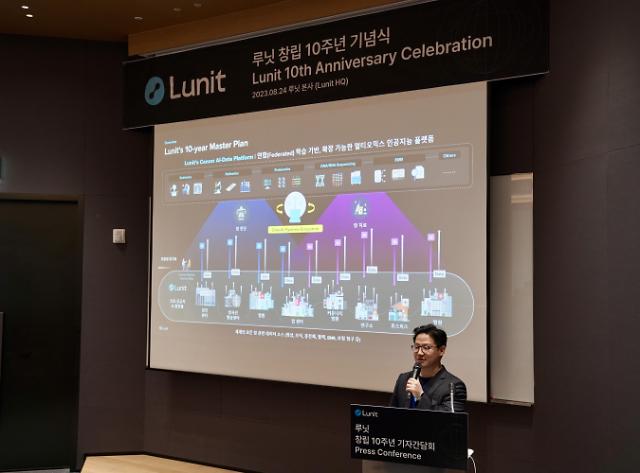 SEOUL -- South Korea's medical artificial intelligence company Lunit revealed its plan to make a foray into the AI-based medical big data platform market. The company, specializing in chest and breast cancer X-ray analysis, will integrate and manage various health data from medical facilities across the world to improve the diagnosis accuracy of all kinds of cancer and the prediction of treatment outcomes.

The South Korean AI solution developer is known for AI Lunit INSIGHT MMG, a solution specializing in detecting breast cancer. The solution compares and analyzes X-rays and medical images of breast cancer patients and healthy people. The AI solution informs human supervisors whether patients should take extra tests. Lunit INSIGHT MMG was supplied to many countries including Taiwan and Saudi Arabia.

At a press conference held on August 24, Lunit CEO Brandon Suh said an AI learning model would be adopted to analyze different data related to cancer from local hospitals and screening centers for the new platform business. "It is crucial to integrate data and precisely analyze them to improve accuracy," Suh told reporters. Lunit will then create a platform that can autonomously manage collected data and apply the system to medical institutions.

Lunit will also develop a whole-body magnetic resonance imaging (MRI) system capable of screening every cancer in a patient's body with a single medical image. "Whole-body MRI shows a superior ability compared with the conventional diagnostic imaging as it detects conditions with higher accuracy and lower false positive rate," Suh said, adding that the new system also eliminates the risk of radiation exposure. He has not disclosed when the solution will be released.

The announcement was made during the media event to mark Lunit's 10th anniversary. The company will also expand the scope of its AI biomarker for immunotherapies "Lunit Scope" into antibody-drug conjugates (ADCs). An ADC is a drug attached to an antibody. Because ADCs are intended to kill only cancer cells and spare healthy cells, they are regarded as an essential targeted therapy to treat cancer patients.

By 2023, the company hopes to achieve 10 trillion won ($7.5 billion) in sales and five trillion won in operating profit. On August 23, Lunit announced that it would raise 200 billion won paid-in capital increase to enhance its research and development capacity.

Lunit INSIGHT MMG was exported to many different countries. In August 2022, the solution was approved by the Taiwanese government's green light for commercialization. In July 2023, Dr. Sulaiman Al Habib Medical Group, a major healthcare provider in the Middle East, agreed to use the solution for three years. According to Lunit's datasets containing the analysis of 55,579 Swedish women who had received screening tests for breast cancer using Lunit Insight MMG, the teamwork between a human doctor and the AI solution showed a higher cancer detection rate (CDR) than two human workers' collaboration.

© Aju Business Daily & www.ajunews.com Copyright: All materials on this site may not be reproduced, distributed, transmitted, displayed, published or broadcast without the authorization from the Aju News Corporation.