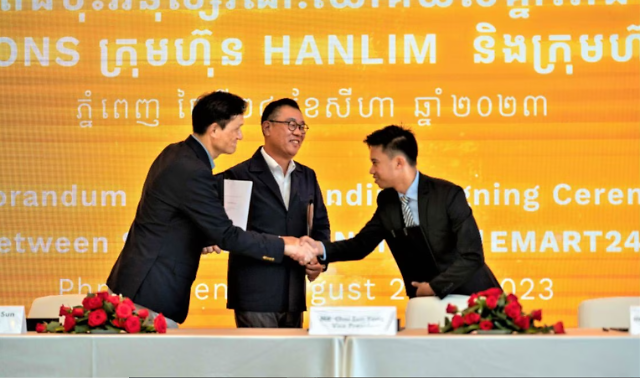 SEOUL -- Emart24, the convenience store chain of South Korea's retail giant Shinsegae, plans to open its first store in Cambodia in the first half of 2024. The company, which already runs stores in Singapore and Malaysia, will work with Hanlim Architecture Group, a Seoul-based real estate service provider, to make a foray into the Southeast Asian country's convenience store market.

According to data cited by Emart24, Cambodia recorded an annual economic growth rate of more than 7 percent by 2019, a year before the COVID-19 outbreak. As of 2019, about 6.6 million foreign tourists visited the country. The nation's current population is about 17 million and around 2.3 million Cambodians live in the capital city "Phnom Penh."

Emart24 said in a statement on August 25 that it partnered with Hanlim to open the first store in Phnom Penh in the first half of next year. Depending on the local situation, the convenience store operator will gradually increase the number of stores up to 100 by the first half of 2029. The project will be also joined by Cambodia's Saisons Brother Holding. After Hanlim and Saisons create a joint venture, Emart24 will sign an agreement in the form of master franchising which involves control of franchise rights in a certain region after paying a significant initial fee.

Saisons, which started its food and beverage business in 2010, has expanded its business scope into many other areas such as logistics, agriculture, construction. The group's subsidiary "Fun Food" has offered catering services for the 2023 South East Asian Games, a 13-day sport event held in Phnom Penh. Hanlim is a South Korea-based global real estate provider that established its branch in Cambodia in 2017.

Emart24 has strived to gain a competitive edge in various regions in Southeast Asia. It operates 39 stores in Malaysia and three stores in Singapore. The company provides various Korean food menus in the two countries such as Tteokbokki, a menu of finger-sized rice cakes simmered in fiery-red spicy chili sauce.

Other South Korean convenience store operators are also trying to expand their markets into different Asian regions. BGF Retail, the operator of the major domestic convenience store franchise CU, had 300 stores in Mongolia and 130 stores in Malaysia as of March 2023.

© Aju Business Daily & www.ajunews.com Copyright: All materials on this site may not be reproduced, distributed, transmitted, displayed, published or broadcast without the authorization from the Aju News Corporation.