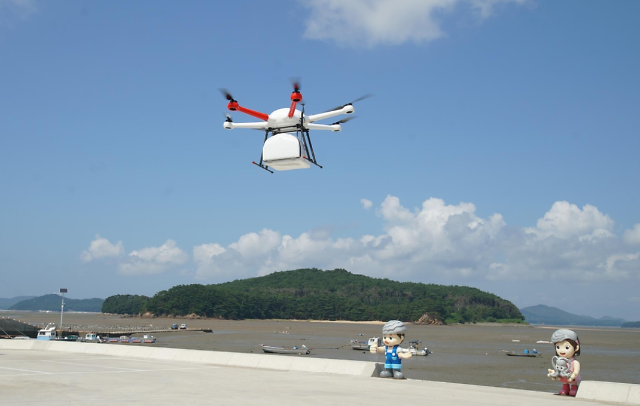 SEOUL -- Seosan, a South Korean coastal city with many small islands, will commercialize drone delivery for residents living on its island. The city in the western region showcased a drone carrying dried seafood at a demonstration event attended by experts from a state aviation safety technology institute and companies specializing in drone technology.

Seosan said in a statement on August 24 that its "hybrid multicopter" run by hydrogen power and batteries was tested in front of officials from the Korea Institute of Aviation Safety Technology, drone solution provider Airon, and Bohemianos, a mobile delivery platform developer. Starting in September, the city will commercialize a mobile app-based drone delivery service from Jungri Port to Gopa Island.

Using a vertical take-off and landing (VTOL) drone, the city also showcased the unmanned aircraft delivering medical supplies such as medicines for infectious diseases. Seosan said it would cooperate with a local medical center to launch a drone-based medical item delivery service for island residents this year.

Drone delivery service is steadily gaining momentum in South Korea. In July 2023, the operator of CU started the service in two water parks in Seongnam, a southeastern satellite city of Seoul. Anyone can receive products such as snacks and quasi-drugs using a QR code. The convenience store operator will also adopt the drone delivery service at a campsite in Taean County, some 110 kilometers (68 miles) southwest of Seoul, in September 2023.

© Aju Business Daily & www.ajunews.com Copyright: All materials on this site may not be reproduced, distributed, transmitted, displayed, published or broadcast without the authorization from the Aju News Corporation.