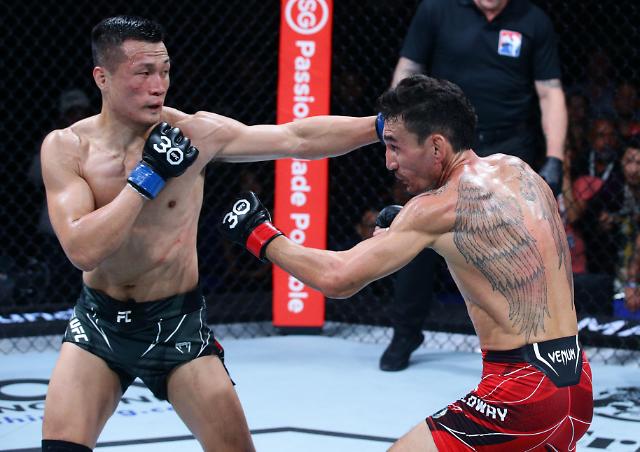 SEOUL -- Jung Chan-sung, a South Korean fighter known by his ring name "The Korean Zombie," announced that he would end his career as a mixed martial artist after the UFC fight against Max Holloway, an American fighter who is ranked first in the featherweight division. At the UFC event held in Singapore on August 26, Holloway defeated the 36-year-old South Korean fighter via knockout at 23 seconds in the third round.

"I'm going to stop fighting," Jung said during the interview after highlighting the UFC Fight Night in Singapore. "I've always aimed to become a champion when I first started this sport. I'm not here to be ranked third, fourth, or fifth." The Korean Zombie added that he thought he could beat Holloway before the match. Although Jung aggressively moved toward the opponent who was five years younger, the Korean Zombie was knocked out via Holloway's counter punch in the third round.

The Korean Zombie, who made his UFC debut in 2011, is currently ranked eighth in the featherweight division, which groups athletes between 136 pounds (61 kilograms) and 145 pounds. His pro mixed martial arts (MMA) record is 17 wins and 8 losses. Jung's ring name comes from his fighting style in which he aggressively attacks his opponent while receiving heavy damage from punches and kicks. Because of his zombie-like resilience, he became popular among MMA fans who wished to watch fighters exchange a volley of blows.

Previously, Jung shared his concerns about whether he should end his MMA career on a South Korean variety show "You Quiz on the Block." The athlete appeared in the TV show after being defeated by Australian fighter Alexander Volkanovski in the title match in April 2022. For MMA fighters and boxers, damage accumulated in the body during fights can be treated. However, it is hard to recover from damage to the head that has stacked over time. Sometimes the head trauma causes permanent disabilities such as dementia pugilistica or "punch drunk" syndrome that involve cognitive impairment.

Holloway expressed his desire to face Jung following his victory over British MMA fighter Arnold Allen at a UFC event in April this year. The fighter from the U.S. said Jung is the only notable fighter during his time he has not had a match yet. The Korean Zombie accepted the challenge via his YouTube channel.

© Aju Business Daily & www.ajunews.com Copyright: All materials on this site may not be reproduced, distributed, transmitted, displayed, published or broadcast without the authorization from the Aju News Corporation.