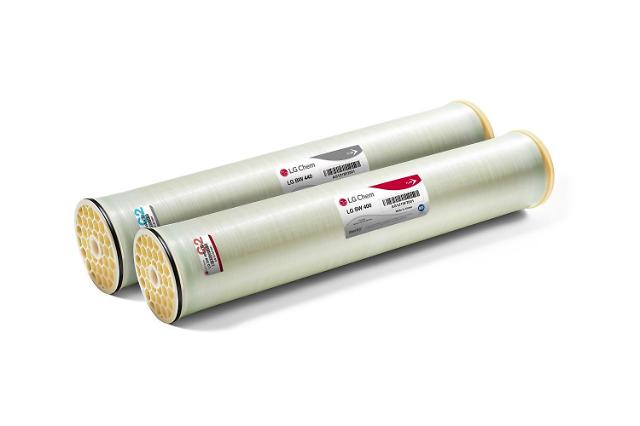 SEOUL -- Targeting the water desalination market, LG Chem earmarked 124.6 billion won ($94.3 million) for new investment to expand the production of reverse osmosis membranes at its plant in Cheongju, a city located in the center of South Korea. Without disclosing the current capacity, the conglomerate said that the plant's maximum annual production capacity would be increased by 400,000 membranes by July 2025. With 400,000 membranes, 1.56 billion tons of water can be desalinated annually.

Reverse osmosis (RO) is used to remove salt and other substances from water. Through a semi-permeable membrane, RO membranes can filter out water molecules without the use of heat. According to LG Chem, its RO membrane has a salt removal rate of 99.89 percent. The global water filter market is projected to reach 6.4 trillion won in 2024.

LG Chem said 124.6 billion won would be injected by July 2025 to expand its RO membrane factory in Cheongju. Starting with the project, the chemical will double the size of its RO membrane business, which is currently worth around 200 billion won, within five years. "(The company) will provide top-level water treatment solutions to broader global customers and further achieve growth in related areas such as lithium extraction and CO2 separation to align with the latest global megatrends," LG Chem's vice chairman Shin Hak-cheol said in a statement on August 28.

The new plant will be established in the form of a smart factory that incorporates artificial intelligence and digital transformation. Digital transformation is a process of turning conventional method-based work processes into more digital-based ones so that companies and organizations can improve work efficiency and reduce operating costs. Through the expansion, LG Chem said its production speed could be increased by more than 25 percent.

As of May 2023, LG Chem was purifying about 1.86 billion tons every year with RM technology. The company said more than 50 percent of total water in Egypt and the Canary Island, a Spanish autonomous community, were generated through its RM membranes.

© Aju Business Daily & www.ajunews.com Copyright: All materials on this site may not be reproduced, distributed, transmitted, displayed, published or broadcast without the authorization from the Aju News Corporation.