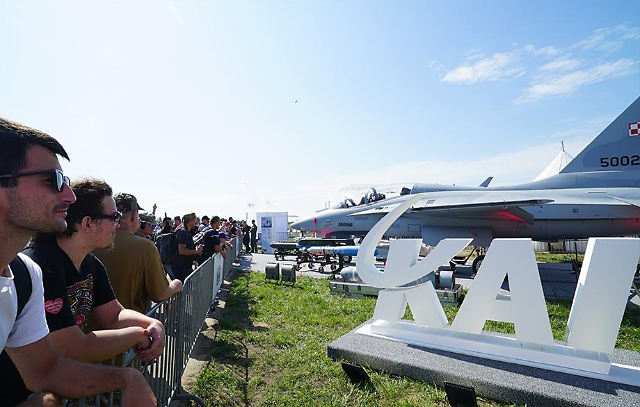 SEOUL -- The Korea Aerospace Industries (KAI), the sole aircraft maker in South Korea, has showcased its light fighter jet called "FA-50" at an international airshow in Poland. At the exhibition, hosted by Poland's military property agency, 20 types of fighter jets from European nations including Britain and Germany performed aerial acrobatics in front of more than 200,000 spectators.

Without disclosing the number of aircraft, the KAI said FA-50 took part in the Air Show Radom, a two-day airshow that started on August 26, to target the European market. This is the second time the South Korean fighter jet made an official flight in Europe, followed by its first flight at Poland's Armed Forces Day event on August 15.

The South Korean aircraft maker struck a $3 billion deal with Poland in September 2022 to sell 48 FA-50s to the European country. After delivering 12 units of the fighter jets by the end of 2023, the KAI will send the rest 36 after customizing them in accordance with the Polish Air Force's request.

FA-50s will be used as the main aircraft for combat missions by the Polish Air Force, replacing its current MIG-29 fighter jets. The FA-50 has air-to-air and air-to-ground missile systems. It also incorporates an active electronically scanned array (AESA) radar-based detection and aerial refueling capabilities. An AESA can electronically steer the beam of radio waves to point in different directions.

In February 2023, Malaysia also signed a $920 million deal to buy 18 units of FA-50. The fighter jet was selected as the preferred bidder by Malaysia's defense ministry among six light fighters including Russia's MIG-35, Turkey's Hurizet, and India's Tejas.

At the air show held in east-central Poland, the KAI also presented other products such as light-armed helicopters and NI-500VT, an unmanned aircraft with vertical takeoff and landing capabilities.

© Aju Business Daily & www.ajunews.com Copyright: All materials on this site may not be reproduced, distributed, transmitted, displayed, published or broadcast without the authorization from the Aju News Corporation.